Dazzling Dubai: Part I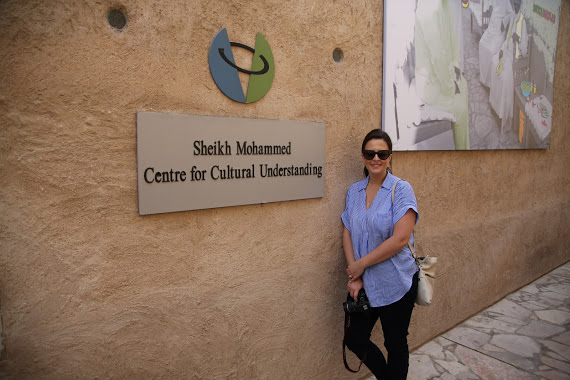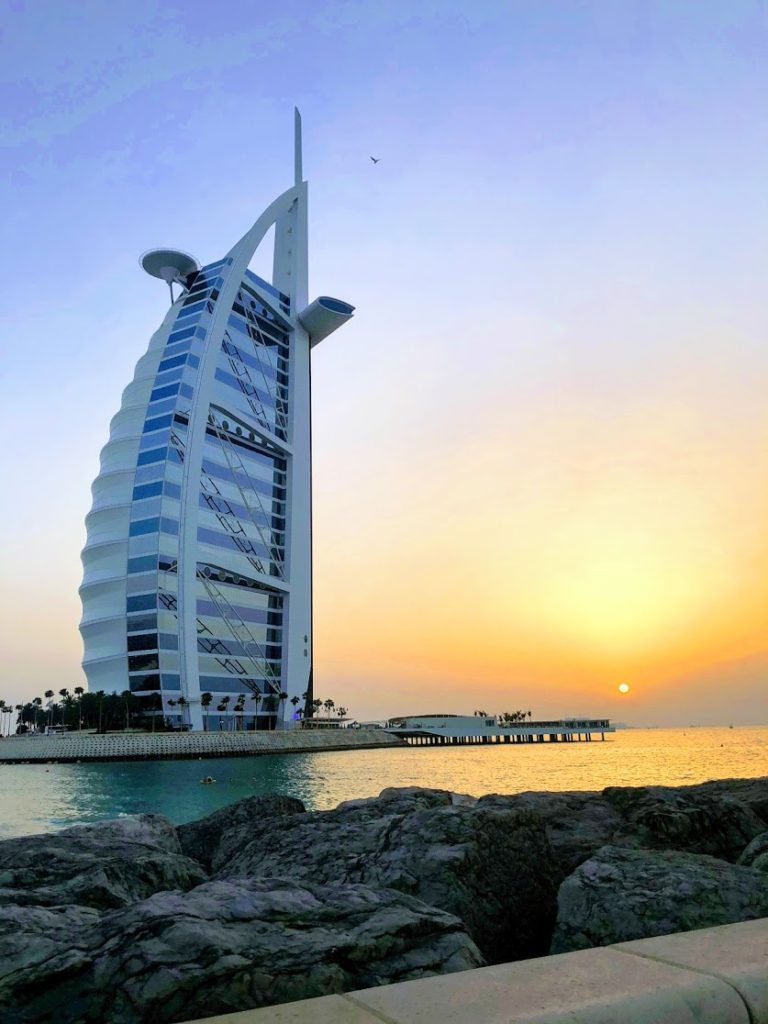 It's no surprise Dubai is synonymous with incredible wealth and luxury. Everything in Dubai offers a glimpse into Emirati culture and mindset: from the extravagant architecture that lines the city's skyline, to the man-made islands in the shape of palm trees, to the Lamborghinis zooming down the streets. This is a country obsessed with having the tallest, biggest, and fastest everything. Why travel to Pisa to see a tower that leans 14°, when you can go to Dubai and see one that was purposely built to lean 18°?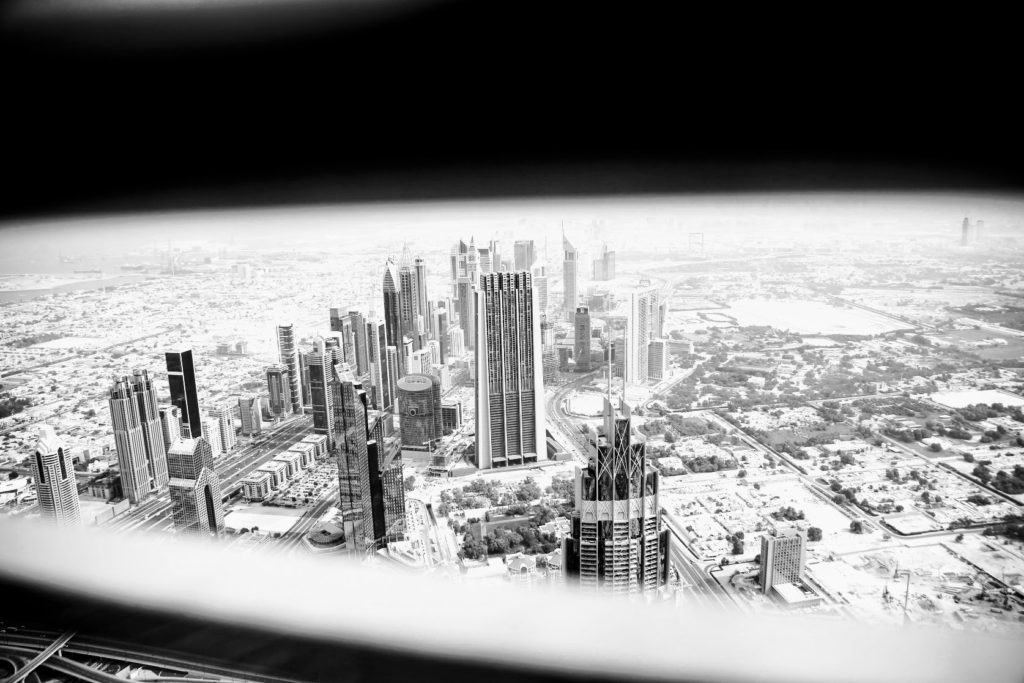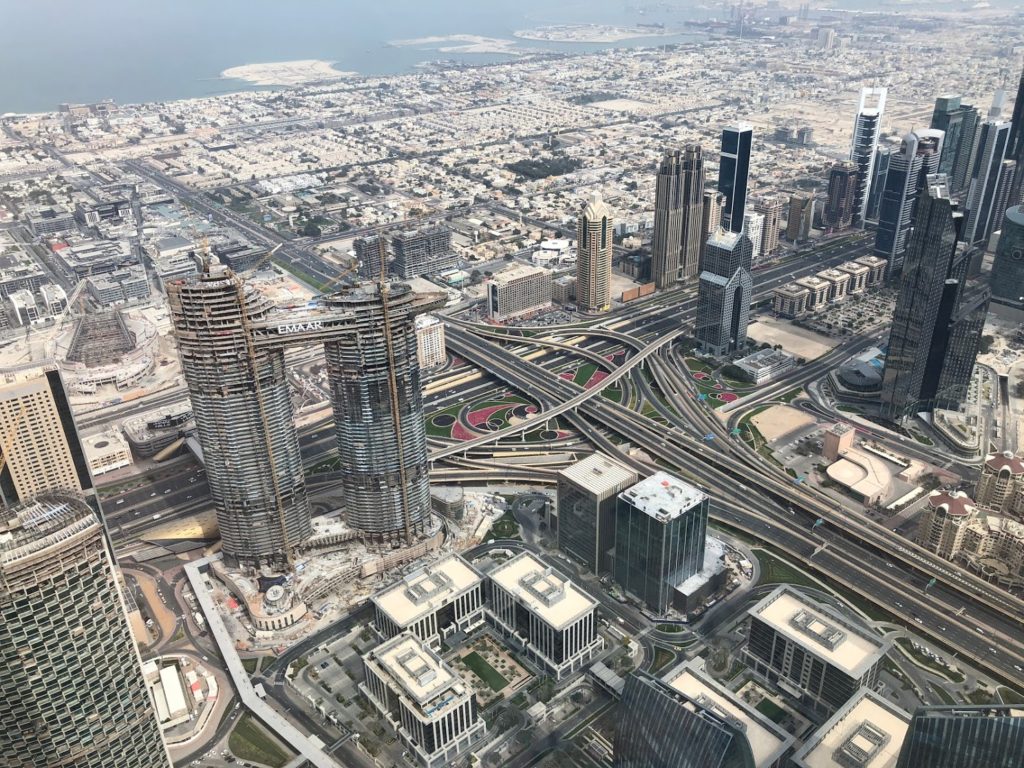 The UAE's wealth was built on its oil reserves, but for Dubai, one of the 7 Emirates comprising the United Arab Emirates, tourism has become a leading source of income. A growing middle class in countries such as India and China, affordable flight options and social media have all contributed to the rise in Dubai's tourism, which has come a long way in recent years. Dubai has a goal of attracting 20 million visitors per year starting in 2020 when it's set to host the world Expo. To meet the demand created by the Expo, Dubai's construction is booming at unprecedented levels. The horizon is dotted with cranes erecting skyscrapers, each designed more intricately than its neighbor. It's crazy to think that in just about two decades a thriving metropolis has risen up where there was once only an enormous stretch of desert.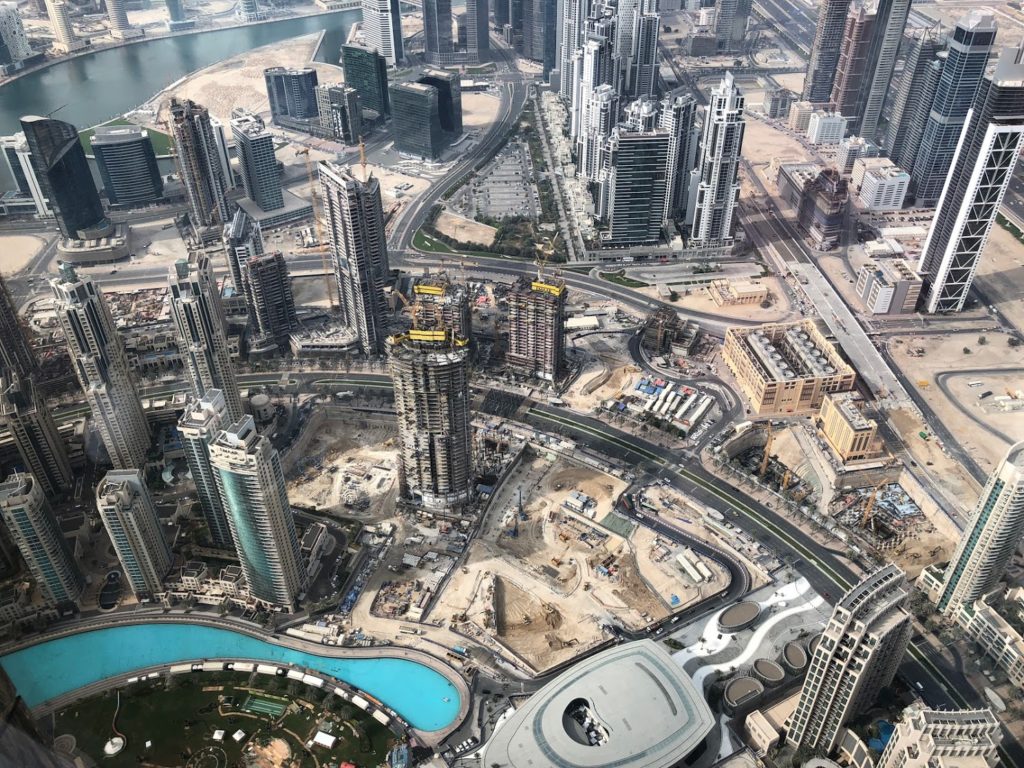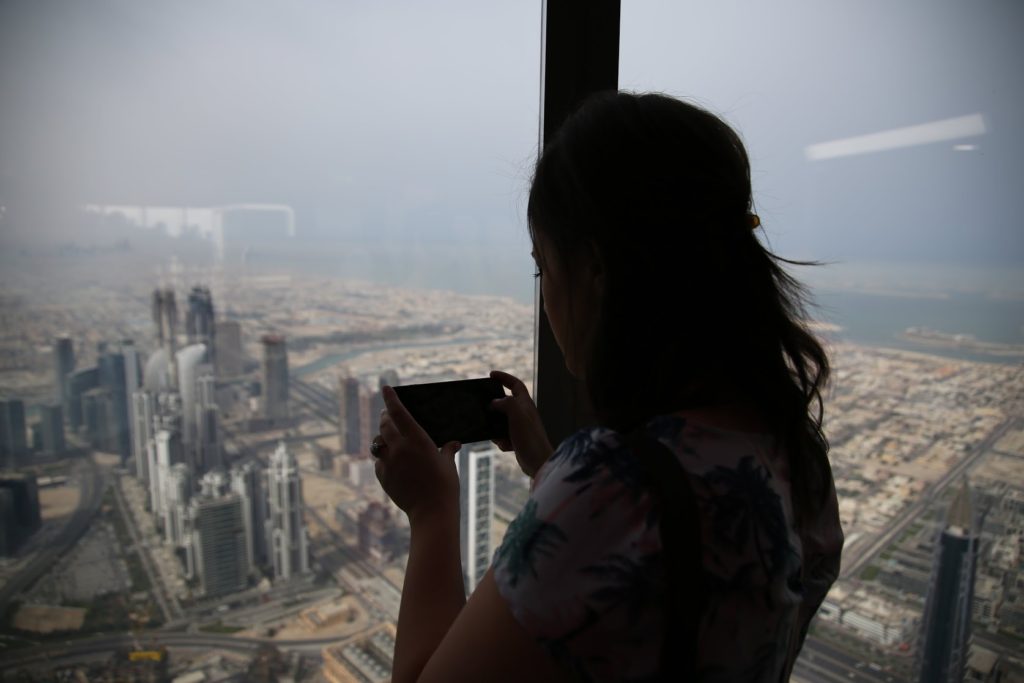 We began our trip by channelling the luxurious Dubai lifestyle and taking advantage of a special upgrade offer to Emirates Business Class. One piece of advice: should this opportunity ever come your way, take it!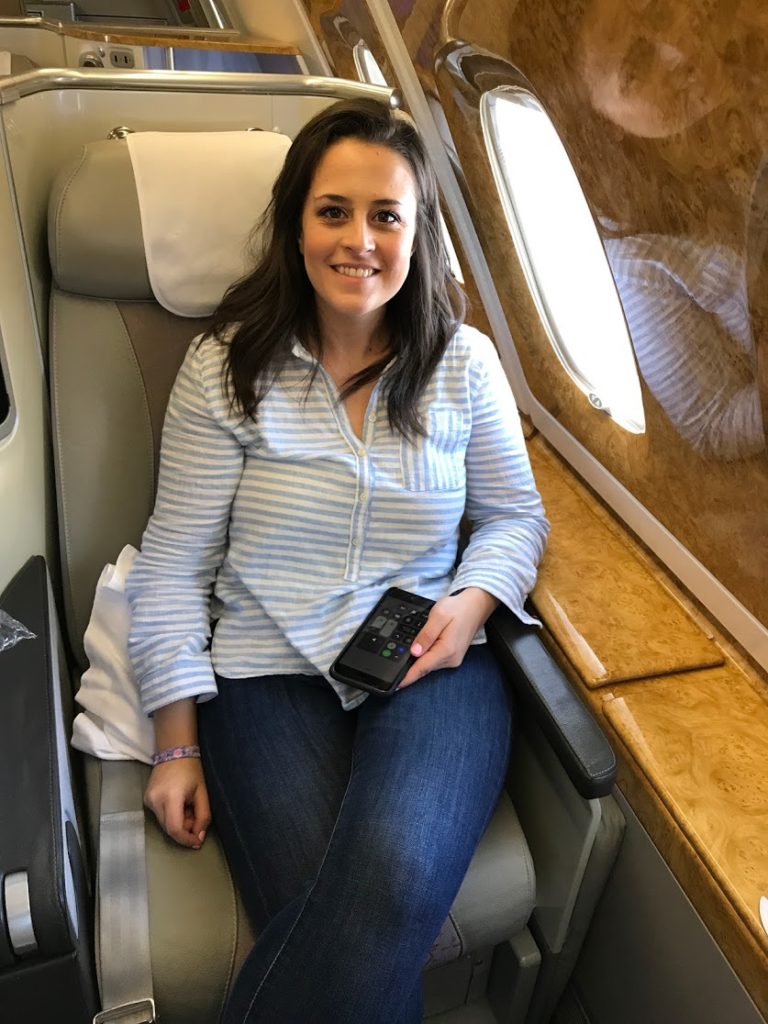 Have you ever been on a plane and wanted the flight to last longer? No detail of this experience has been overlooked. First off, guests traveling business or first on the A-380 dreamliner are seated in privacy on the upper deck of the plane. Upon boarding you are assigned your own personal flight attendant, shared only with a few other passengers. You have a roomy seat, which reclines fully into a bed and a large screen for all your entertainment needs.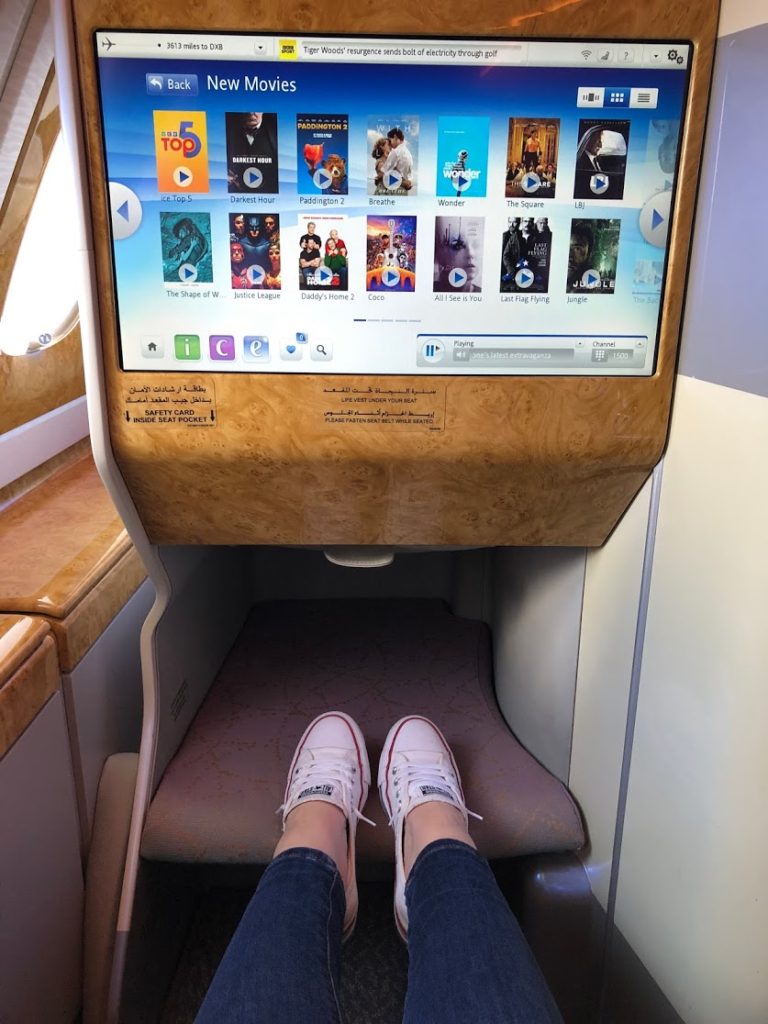 What better way to start your journey than with a glass – a real glass – of Veuve Clicquot champagne. Upon takeoff take a gander at the menu before selecting your three course lunch. Will it be duck confit or crab involtini for an appetizer? The meal certainly goes well beyond the usual chicken or fish option served downstairs in "steerage." After dessert recline yourself into a nap and if you're not comfortable enough the crew will come around with a mattress that can be added to your seat. Thirsty? Enjoy a beverage from your own personal mini bar. Bored? Head to the sky lounge for some snacks and another cocktail. All in all we'd give the experience a 12/10.
Once in Dubai we headed to our accommodations. We stayed at the Park Regis Boutique hotel, a fairly new hotel on Jumeirah Beach. Most places we've traveled to usually have one or two areas that are considered best for visitors, but Dubai's sights are so spread out, that there isn't one area that's best to stay in. If you ever head to Dubai, pick your hotel based on what you want out of the experience. Do you want luxury, or entertainment, or access to the beach? With only 21 rooms, our hotel is unlike most in Dubai. If you're looking for something with all the bells and whistles, then this one is not for you. But if all you need is a nice room, a small restaurant, close proximity to the beach at a reasonable price point, then this hotel is perfect.
The Park Regis Boutique was walking distance to the more traditional Jumeirah Beach Hotel and also the famous Burj Al Arab, recognizable from it's giant sail shape. Our first night we had drinks at the Uptown Bar on the 24th floor of the Jumeirah Beach Hotel. Despite Islam being the UAE's official religion, alcohol in Dubai is widely available at most hotels and restaurants, but don't expect it to be a bargain.
Our visit to Dubai demystified a few other preconceived notions we had. We found people dressed in all kinds of ways. Emiratis wearing the national dress – for men a kandura, a long white cloak accompanied by either a plain white or red and white headscarf and for women a black abaya and headscarf – but we also saw many others dressed in regular western clothing with shorts and skirts of all lengths and bikinis on the beach. Personally, out of respect, we wouldn't recommend wearing booty shorts or a low cut top, but some people did it.
There are about 10 million people living in the UAE, but only 2 million are Emirati citizens. The entire country is largely run by immigrants mostly from India, Pakistan and Asian countries such as the Philippines and Sri Lanka. You'll be hard pressed to find an Emirati working in retail or hospitality. Becoming a naturalized Emirati citizen is essentially impossible and there are so few Emiratis, that they are entitled to incredible benefits such as free personal villas and $40,000 cash upon marriage, free post-secondary education anywhere in the world, free health care and more.
Even though Dubai is by no means cheap, there is one thing that's affordable – taxis. Dubai is not walkable – like not at all. Dubai taxis are clean and reliable and considering a trip between destinations can easily take 45 minutes and several miles, they are a good bang for your buck. A 45 minute ride will run you about $15-25.
Our first full day in Dubai we woke up early to visit the Burj Khalifa, the tallest building in the world. The UAE's Saudi neighbors are currently attempting to challenge this by building an even taller tower. But this is in vain, as the Emiratis are already planning one that will top it. A tip: visit during non-peak times and save on your ticket. There is an option to pay extra and go all the way to the 145th floor, but if the 125th will impress you, then there's probably no need. To get there you ride an elevator that travels at an impressive 9 meters per second with the entire journey taking only 77 seconds. Expect the usual forced green screen photo tourist trap, but once at the top, the view is impressive. There is an awesome outdoor viewing area as well. Having been to the top of many of the world's tallest structures – the Eiffel tower, the Willis tower, etc. – this experience was on a whole 'nother level.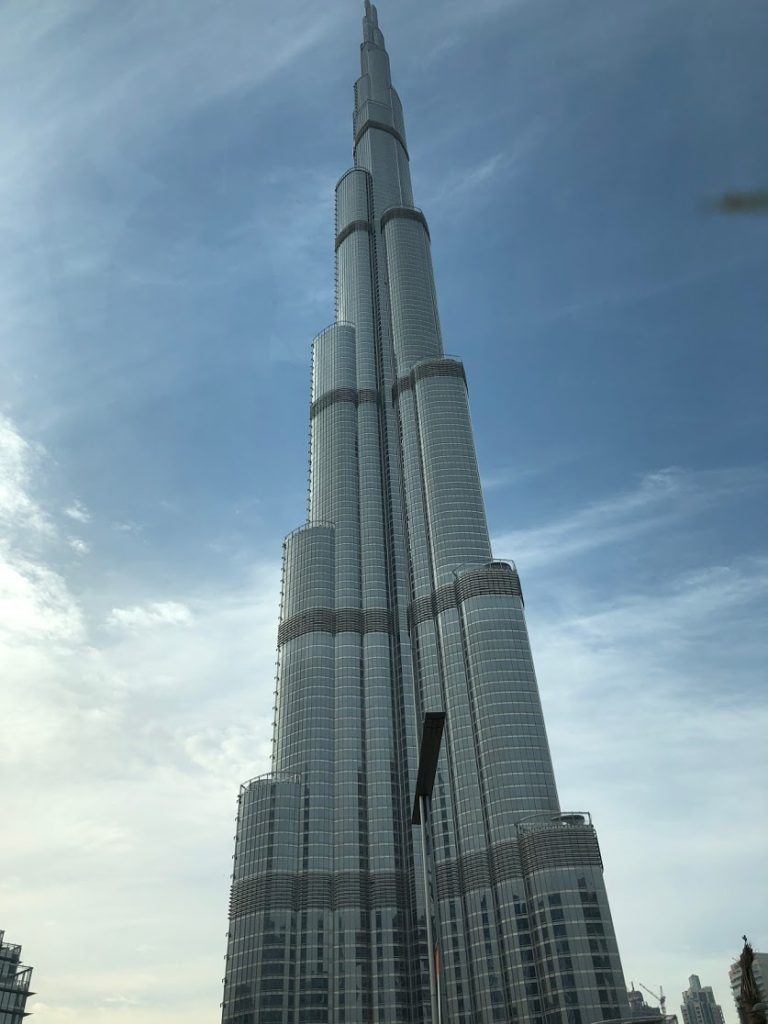 An alternative to the Burj, which we did not visit but was recommended to us, was The Dubai Frame. It just opened on January 1 and as the name suggests it's a building in the shape of a huge picture frame. The top part of the frame has a glass bottomed walkway and is known for offering views of old Dubai on one side and new Dubai on the other.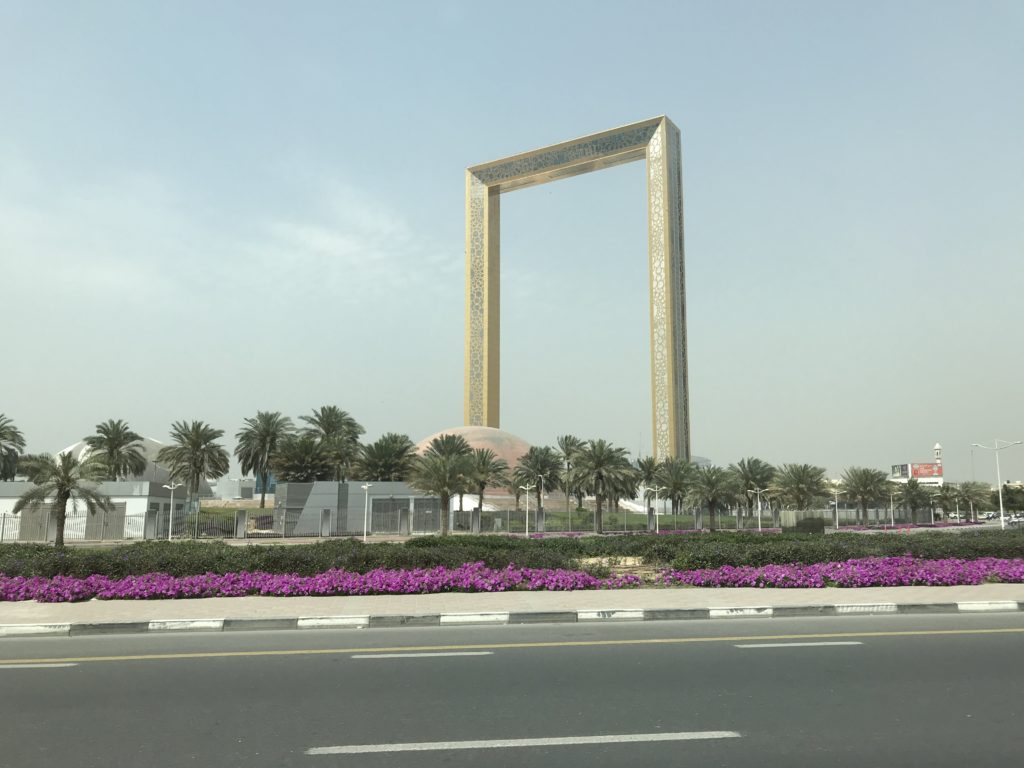 At the suggestion of many blogs we visited the Spice and Gold Souks. In retrospect we would recommend skipping both. The spices are beautiful and fragrant, but you can't stop and enjoy them because you're being aggressively harassed by each stall's vendor, whether you look their way or not. If you're interested in buying spices, try going into some of the neighboring shops outside the main souk area. As an alternative we recommend visiting the Souk Madinat, which is a more upscale indoor market. It doesn't have the spices, but it does have shops selling traditional goods and the vendors are far more pleasant. You can still bargain and if you're Jason you'll get them to knock 40 dirhams off the price of traditional arab coffee pot.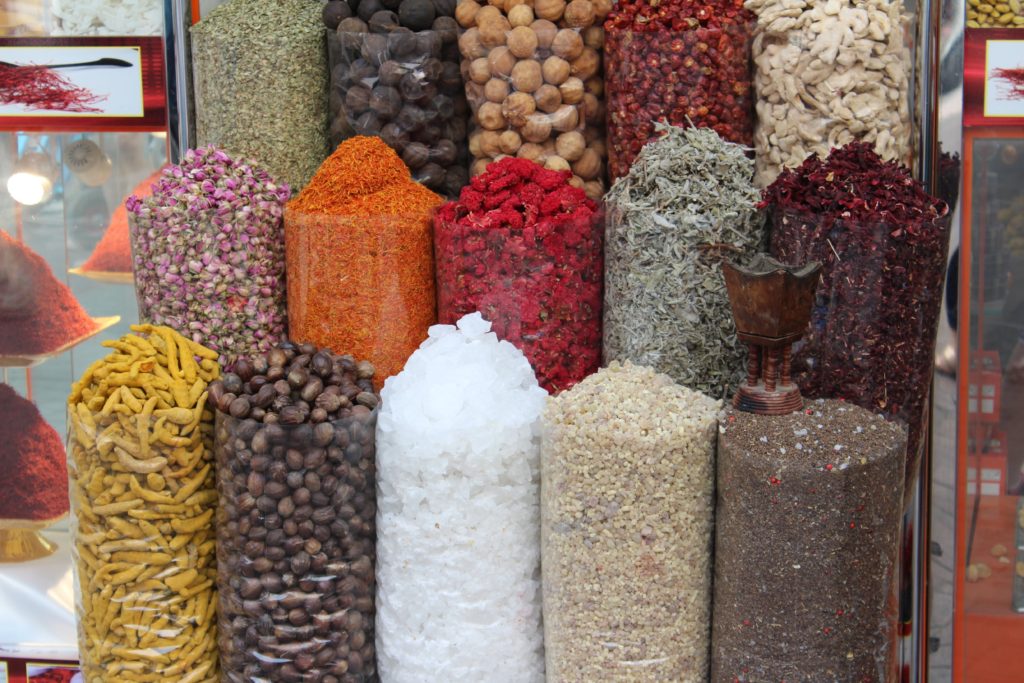 One of the experiences we most enjoyed was hiring a Dubai Abra for a private hour long boat ride up and down the Dubai creek. At £30 for the two of us it was a good deal and a special way to experience the city skyline. For most expenses credit cards will be accepted, but it's a good idea to get some local currency, Emirati Dirhams, to pay for things like this.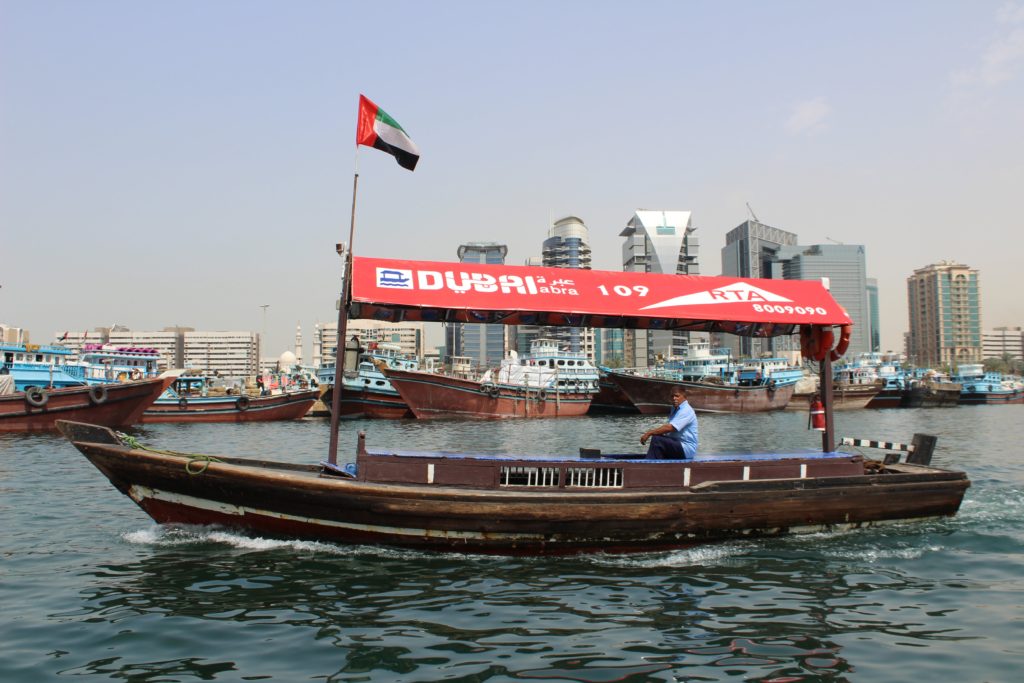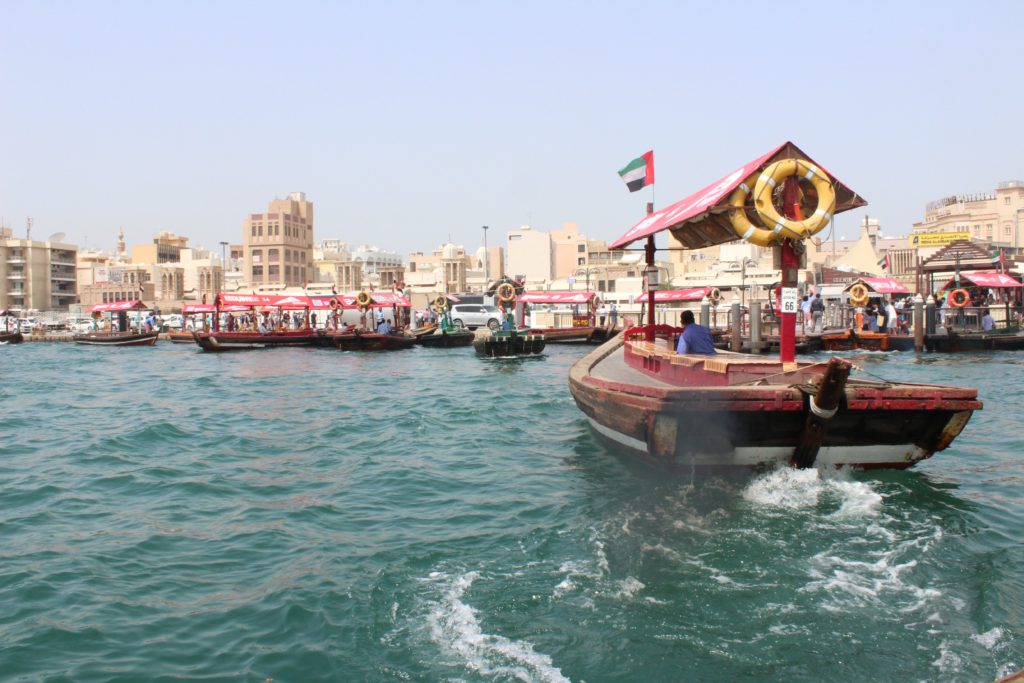 If you visit Dubai chances are you'll end up doing at least one thing that's kitschy, but that's kind of the allure. For us that was visiting Dubai's Miracle Garden. A giant flower garden with 109 million flowers spanning 780,000 sq. ft. and surprise, surprise – the world's largest natural flower garden.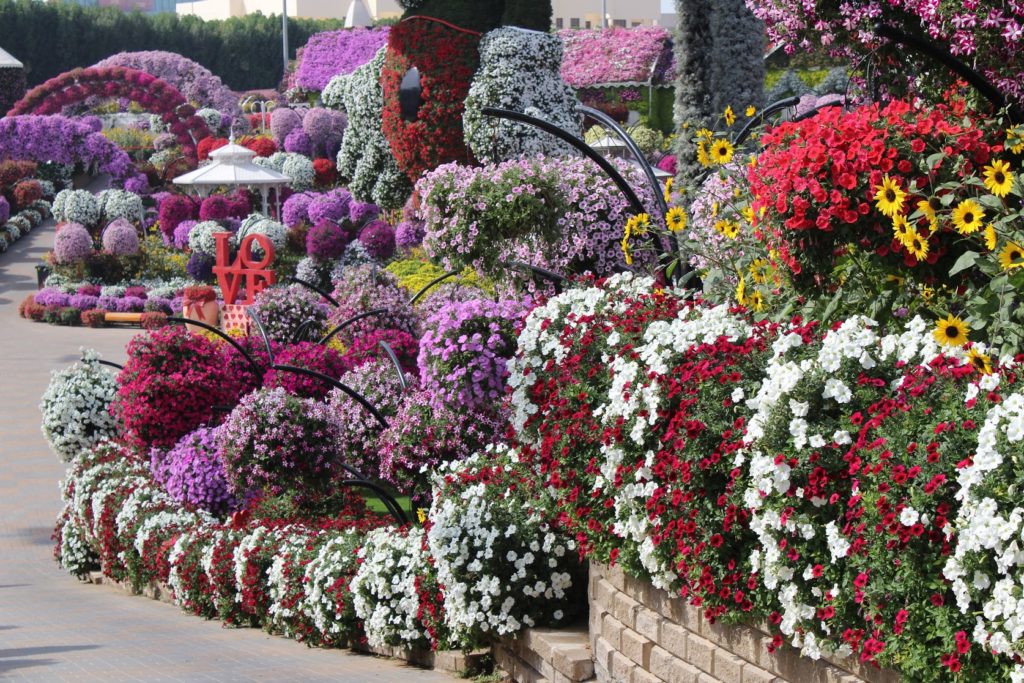 We wrapped up our first full day with drinks at 360°, a bar sitting over the water at the end of a long beach walkway and enjoyed the sunset setting over the Burj Al Arab. We then had dinner at Ayamna, a delicious Lebanese spot at the extravagant Atlantis resort, which is located on the manmade palm shaped island known as The Palm. The Atlantis is worth visiting, if only just to sit by the giant fish tanks and watch the various creatures swim by.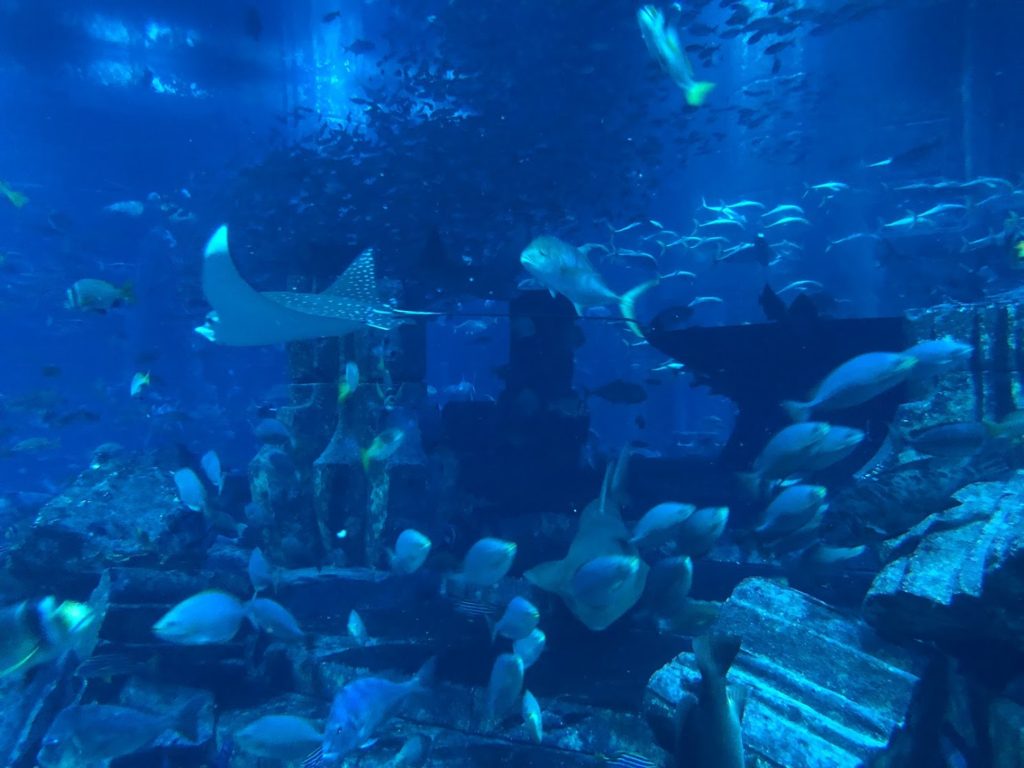 It's hard to believe how much we saw on our first full day in Dubai, but this was just the beginning of our trip.
More to come on our next post!