Adventures in Scotland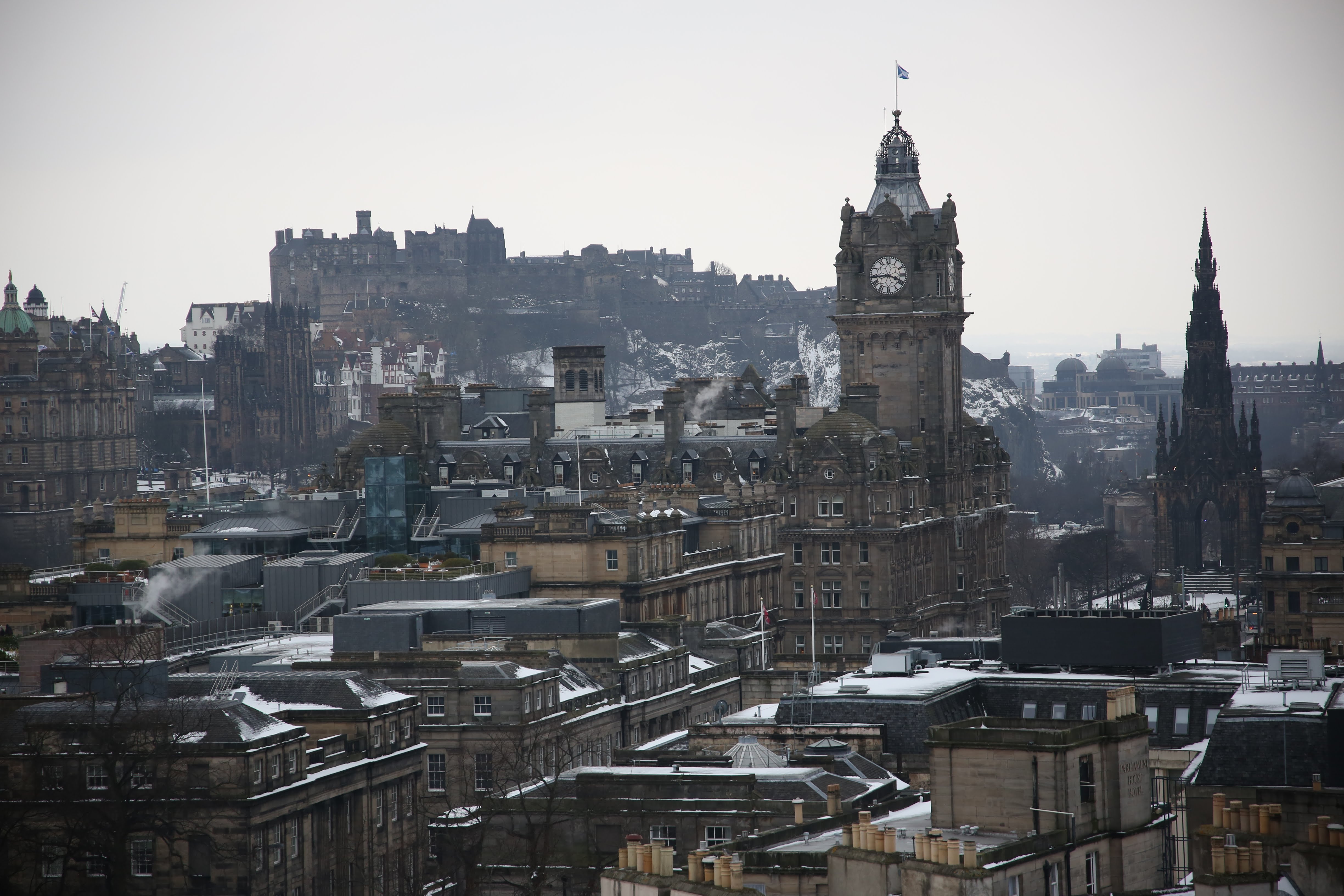 Grab a drink, find a comfy spot and settle in for one wild ride. To view all the pictures and some videos from the trip click here.
When I came to the UK I knew I wanted to use the opportunity to finally try freelancing. For the last dozen years I'd had the comfort and assuredness of a steady paycheck and a full-time job, but with Fed's reassurance it was time to get rid of the safety net. I had been applying for jobs since we arrived, but since no leads were panning out, when I saw an opening with National Geographic I immediately jumped at the chance and 4 days later I was heading off to Scotland.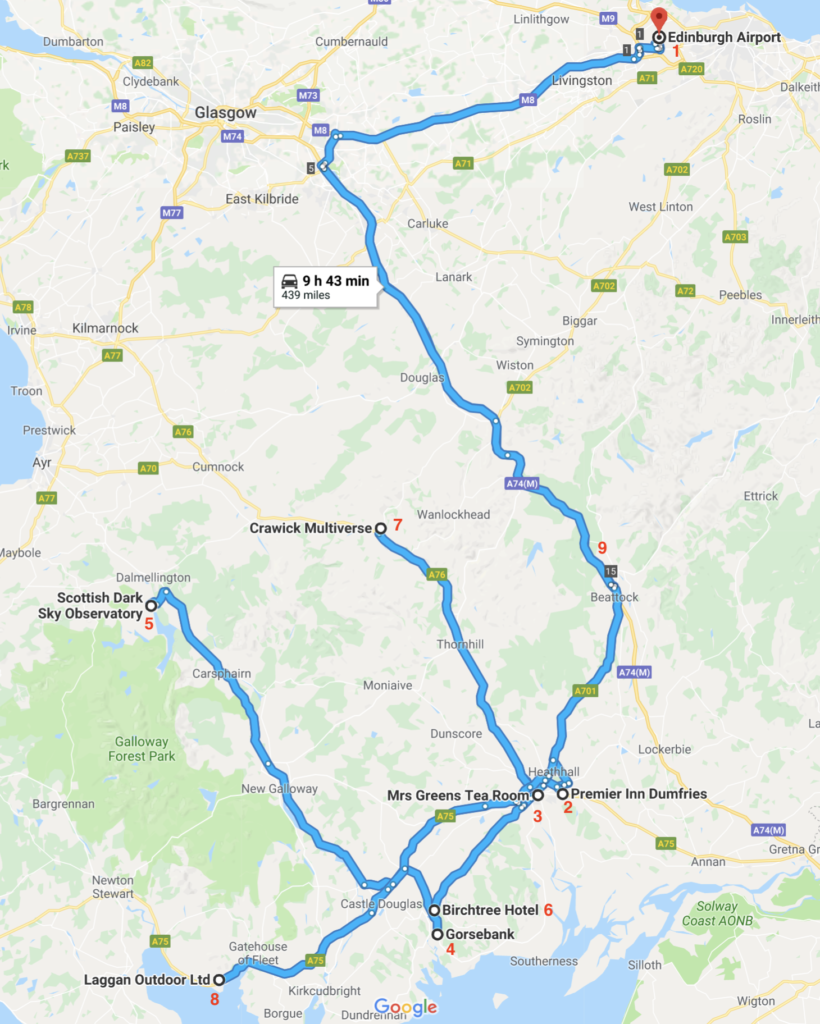 The job itself seemed simple enough – overseeing a 2 day shoot in the Scottish borderlands.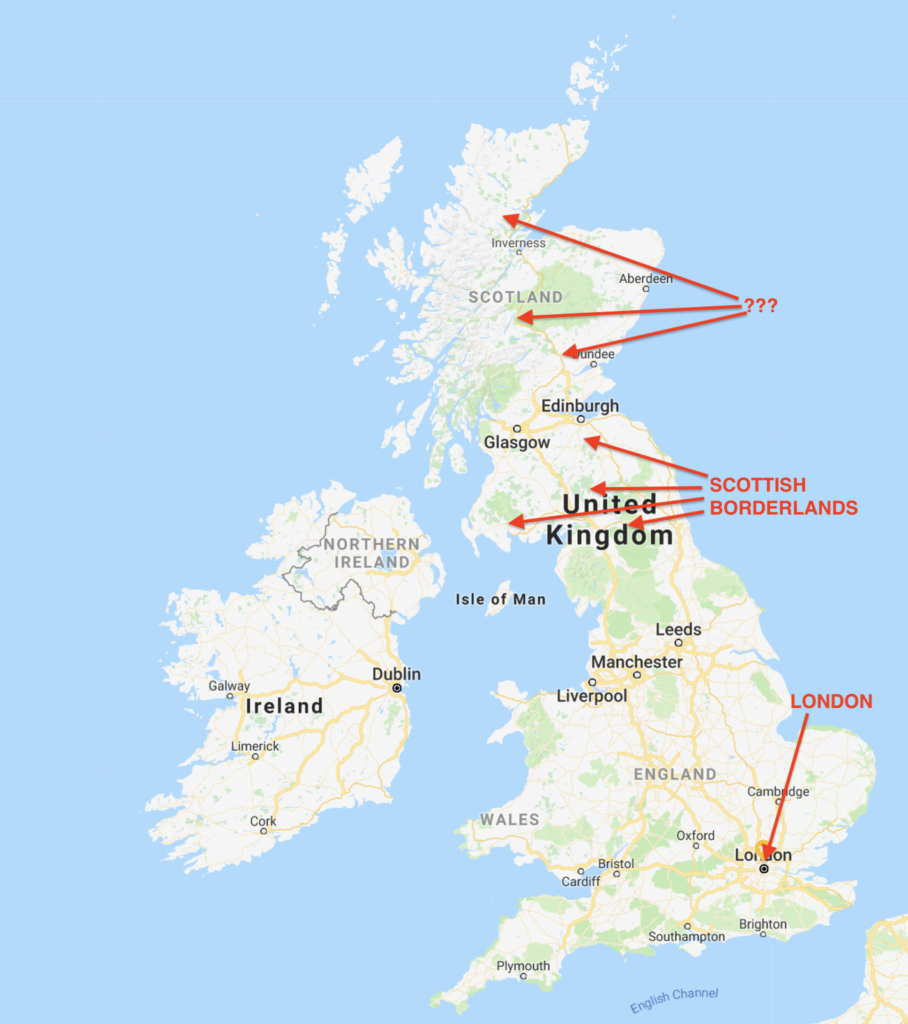 All I had to do was make sure the crew and talent got to the right location at the right time, liaise with the location contacts, collect release forms and take some production stills. To top it off I was finally going to get to try driving on the left side of the road. Little did I know that one of the worst snow storms in UK history was quickly approaching, the not-so-subtly nicknamed "Beast from the East."
On Tuesday morning we awoke to a beautiful white coating of snow.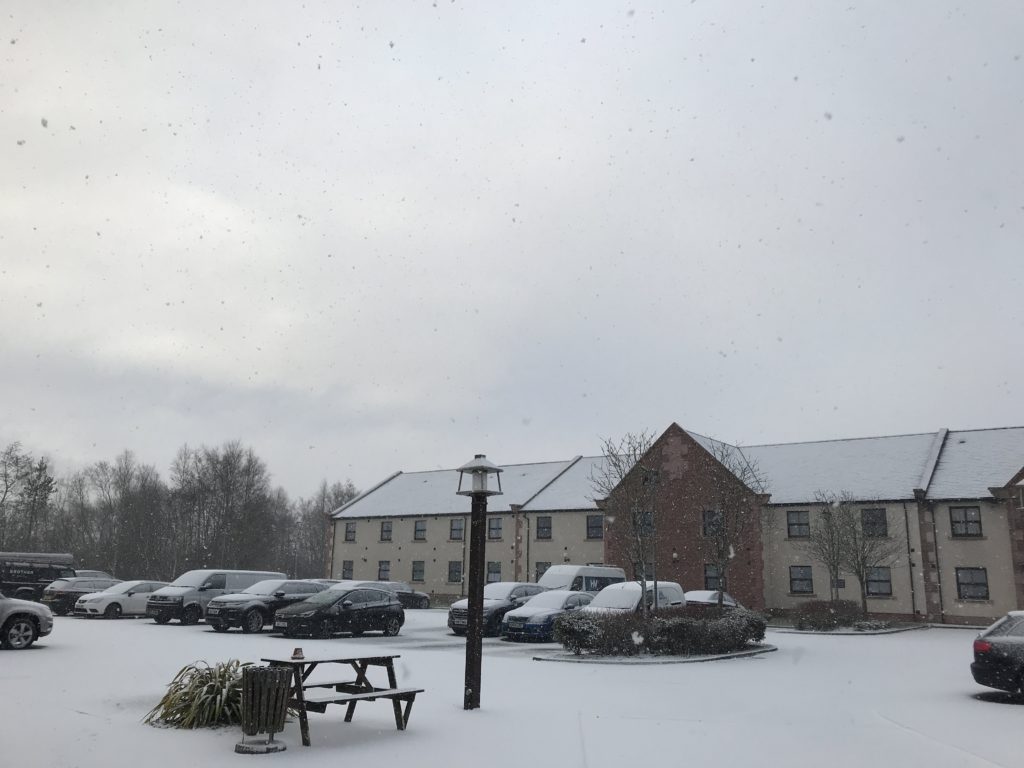 The very British crew was impressed with the accumulation (about ½ inch), but growing up in the Northeast this was nothing to bat an eye at. Shortly after most of it melted and the weather cleared. We finished the morning shoot and headed to our second location. There were some more flurries on and off, but everyone I met kept talking about the coming snow. Our third location of the day was at the Scottish Dark SKy Observatory located on the very top of a mountain.

The observatory is accessed via a steep dirt road, over a wooden bridge with no sides or railing and by opening two separate wooden gates. While there the snow finally arrived with a vengeance. When we first arrived you could see for miles and miles in all directions, but a short time after the snow rolled in visibility was reduced to maybe 100 feet.
[bais_before_after before_image="https://jedjetset.com/wp-content/uploads/2018/03/before-snow-e1521071191821.jpg" after_image="https://jedjetset.com/wp-content/uploads/2018/03/EA3DA010-CB22-4A16-B8DA-066007603658-e1521070954768.jpg"]
Luckily this blast of snow moved through quickly and we got some great views of the night sky. We wrapped at the observatory and headed back to our last location of the day and then to the hotel for a quick 5 hour sleep before heading out at 5 am the next day.
When I woke up around 4:30 am on Wednesday morning the skies were clear and the winds calm. It was a 60 mile drive north from the hotel to our first location of the day at the Crawick Multiverse. As we got further north there was more and more snow all around and the winds began to howl. It felt like we were trekking North of the Wall.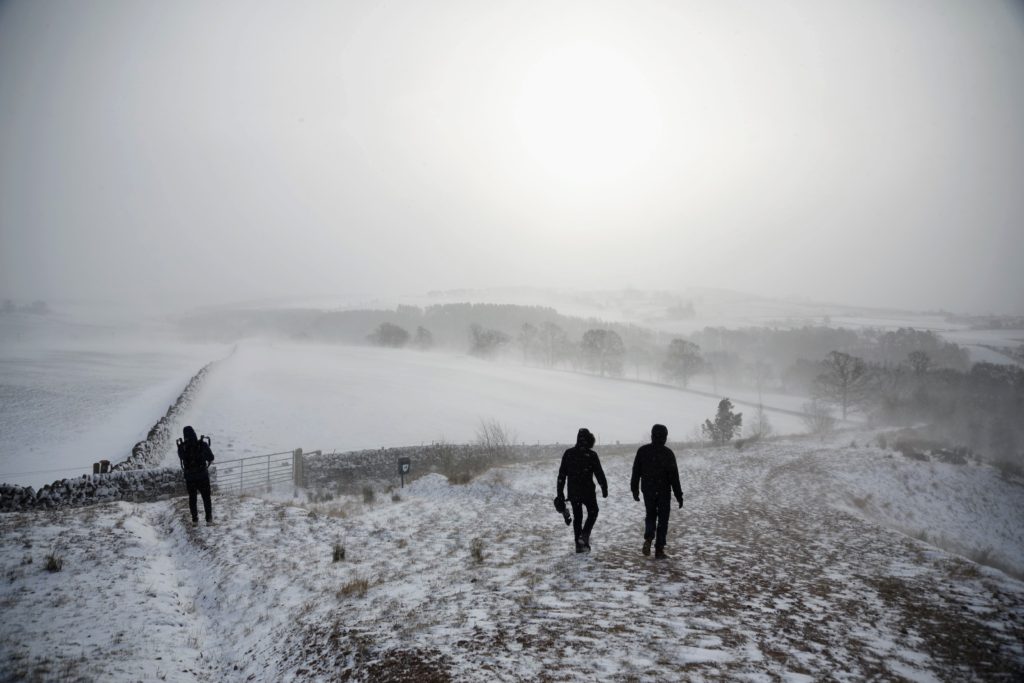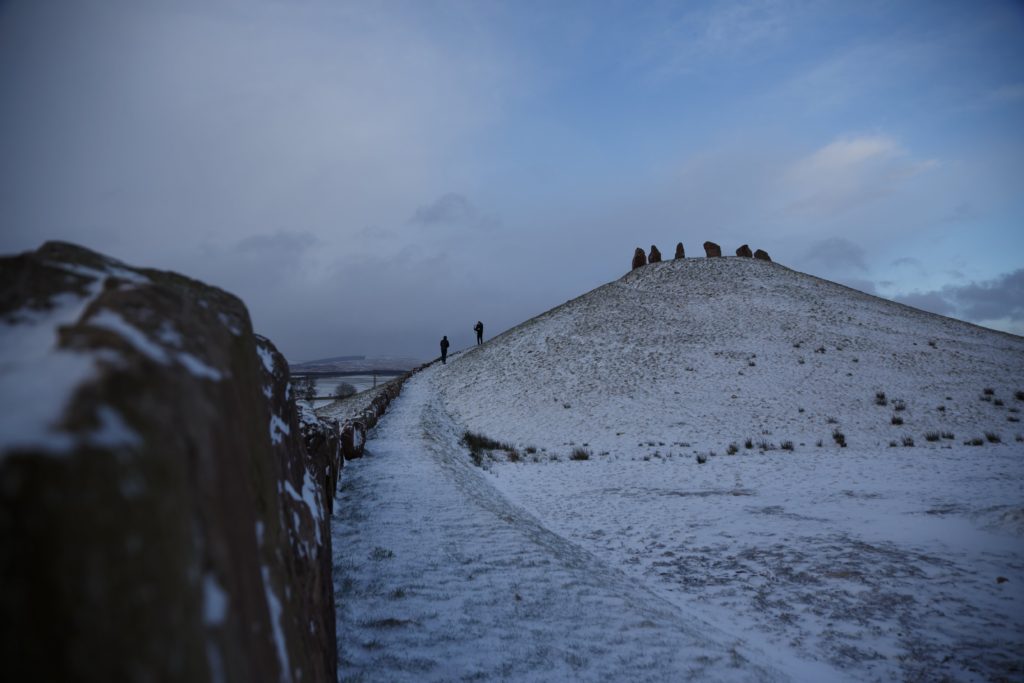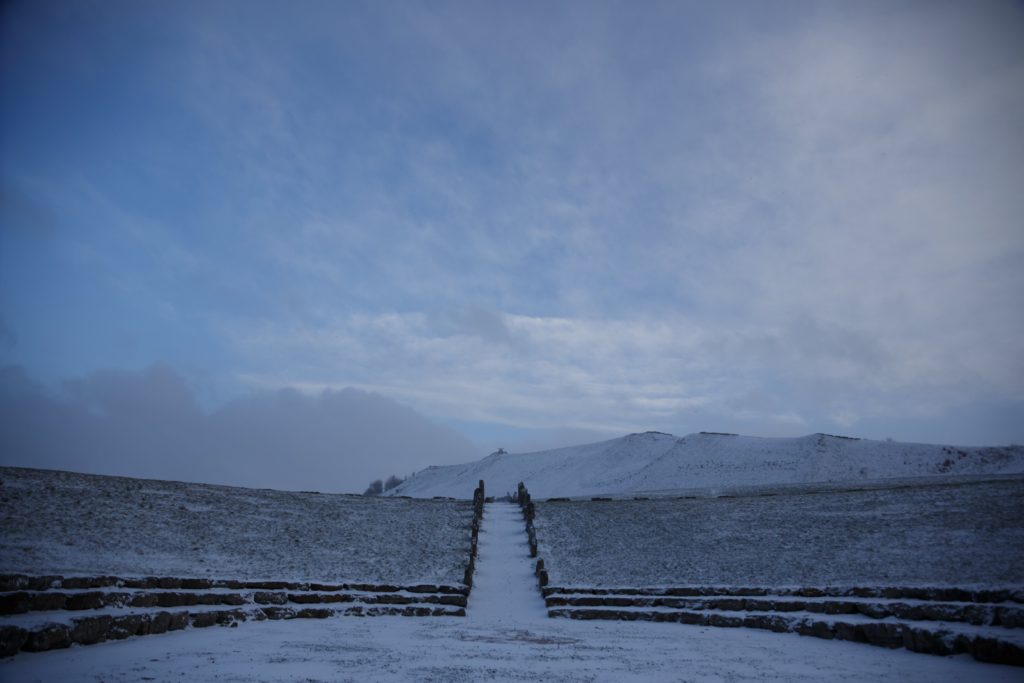 It was so cold that the drone batteries kept malfunctioning (the manufacturer says that the minimum operating temperature is -10 C) and the iPad controller wouldn't turn on. But any good crew lives by the mantra "anything for the shot" so we didn't let a little wind or snow deter us. After a few hours we packed up and headed to our last location of the trip about 60 miles south. There were traces of snow when we arrived at Laggan Outdoor, but as the Beast approached there were strong periods of snow and the winds kept raging. Laggan has a pretty impressive ½ mile zipline that gets you flying down a mountain at 45 mph, but due to the strong winds we weren't allowed to use it.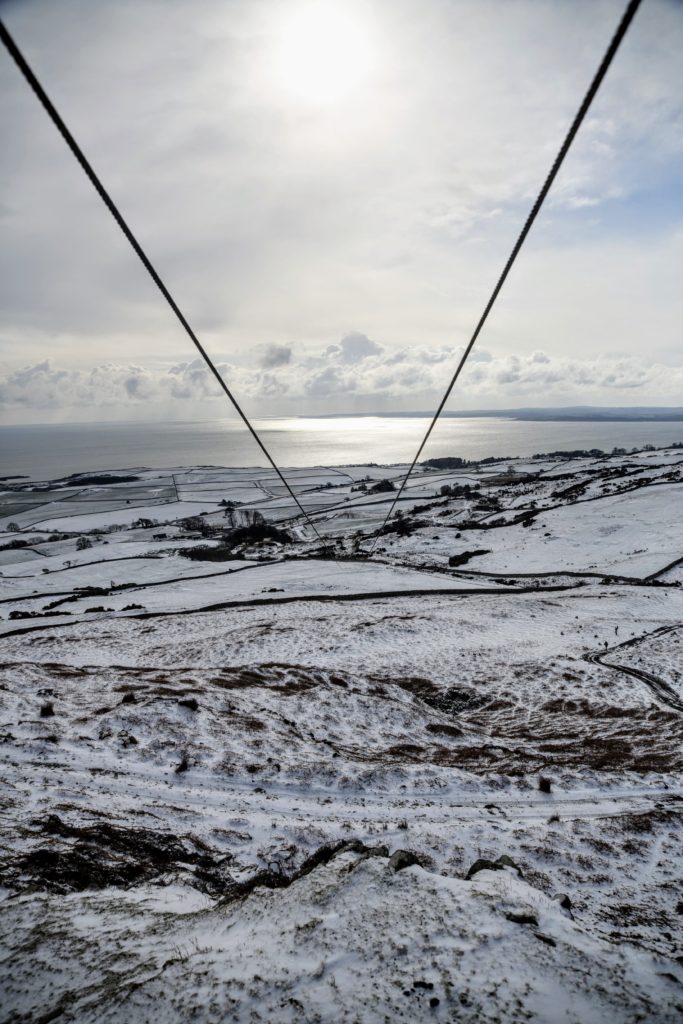 We opted for a quick archery lesson instead and with the worst of the storm still on its way we wrapped up early and headed off.
When we wrapped we all headed off on on our separate ways. The crew is based in London and they have a custom built Land Rover so they headed back south by themselves and the talent jumped on a train to head home. I, on the other hand, had a flight on Thursday afternoon out of Edinburgh which was about 130 miles from where our last location was. All day on the radio the BBC was sending out alerts about various road closures in northern Scotland, but after weighing my options and feeling cautiously optimistic I opted to try and make the drive.
When I left Gatehouse of Fleet on the southwest coast of Scotland the sun was shining and there was no precipitation. I made it about 60 or 70 miles before I started to see what all the fuss was about. The snow started coming down harder and while there are major 6 lane highways that criss-cross the country, the most direct route (and the route that Google maps gave me) had me going on two-lane back country roads. Since heavy snow is such a rarity the whole UK is about as well equipped to handle a storm as the DC area, which is to say not prepared at all. I passed very few "gritters" (aka snow plows) and as I got further north the warnings from the BBC got more dire. The Met Office weather alert had gone from "amber" to "red" which is the most serious weather alert meaning "severe or hazardous weather which has the potential to cause danger to life or widespread disruption."
I kept driving thinking 'it can't possibly be that bad' and passed through a quaint little town and thought to myself 'this looks nice, I'd like to come back here one day" (foreshadowing alert). I drove through the town and suddenly I began climbing in elevation on a winding road that hadn't been plowed and there was no telling where the the lanes were and you couldn't see where the edge of the road was, which was made all the worse by the apparent sheer cliff on one side. After nearly being run off the road by a gritter and starting to feel like I might have to channel my inner Bear Grylls if I got stuck, I decided it was time to abandon my journey. I made a U-turn and headed back down the mountain where I ended up in the same little town I had just driven through 10 minutes earlier.
This small town is called Moffat, located about 50 miles south of Edinburgh.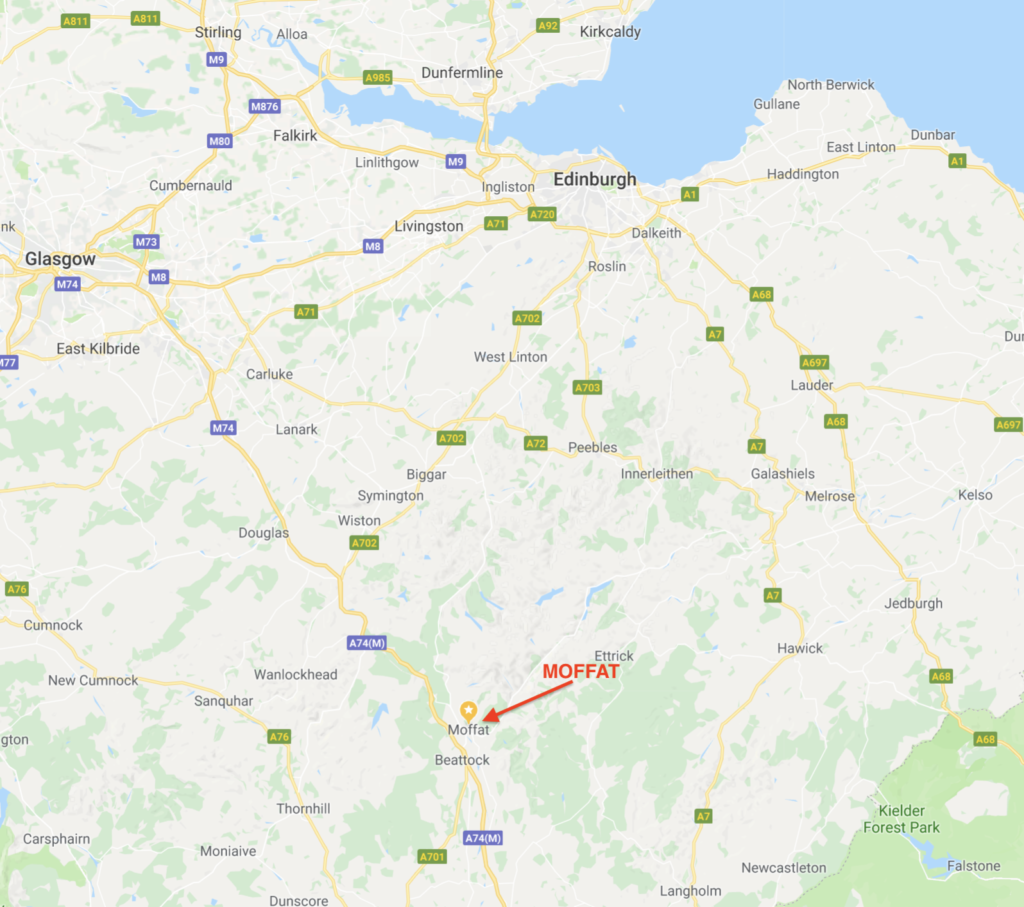 Ironically this is where our original final shooting location was supposed to be before we had to make a last minute switch. Luckily this town was filled with hotels and I checked into the Stag Hotel.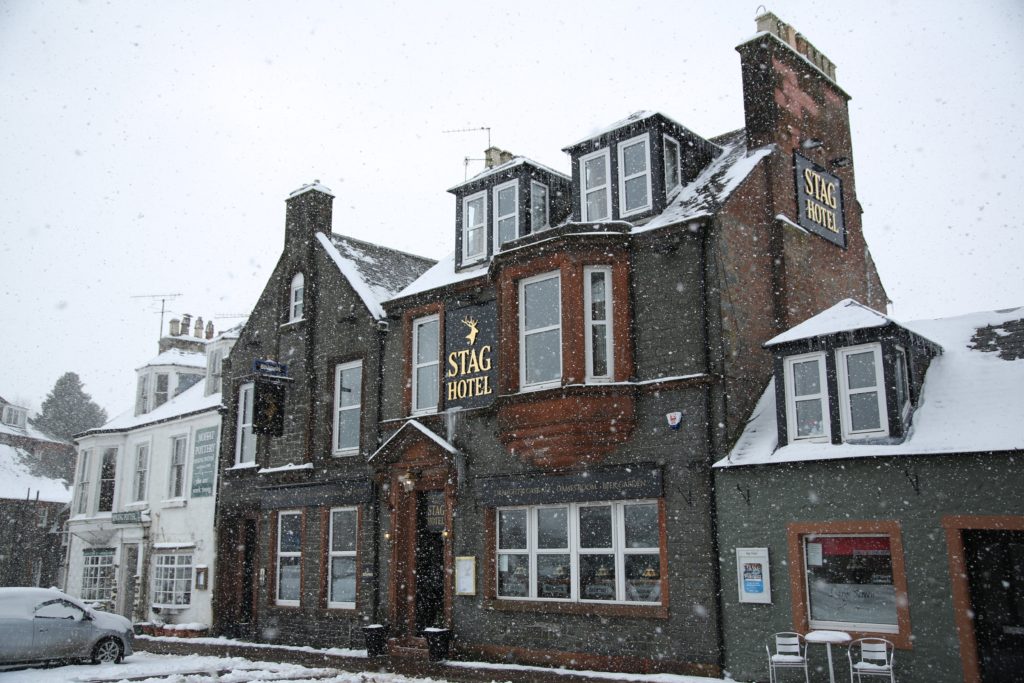 Figuring I would only be there for one night I opted for a single room and with satellite TV and a solid wifi connection there were worse ways this day could have ended up.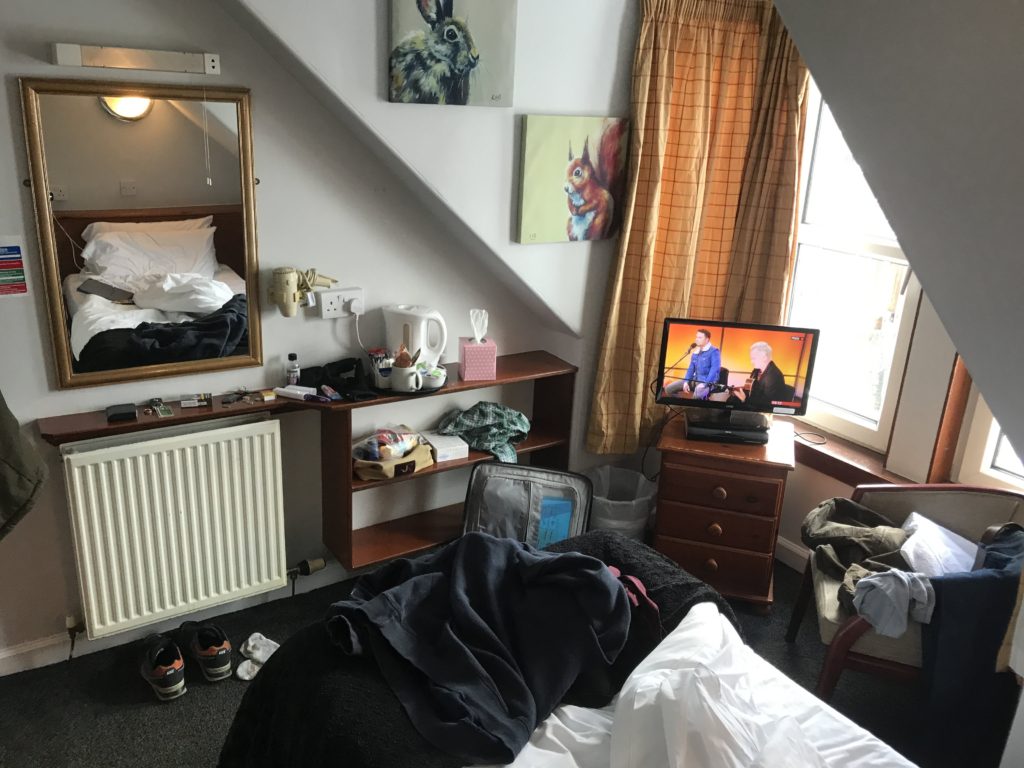 It was about 5 pm when I checked in and with nothing better to do I decided to head out for a pub crawl stopping at all of the hotel pubs on Moffat High Street. Turned out that every hotel had a pub so I had my work cut out for me. After hitting about 5 or 6 pubs and a delicious dinner of lamb chops I headed off to bed, hoping that in the morning I could finish my drive and still catch my flight.
Wrong! While I was enjoying a proper Scottish breakfast at the hotel I got an alert on my phone that my flight was cancelled.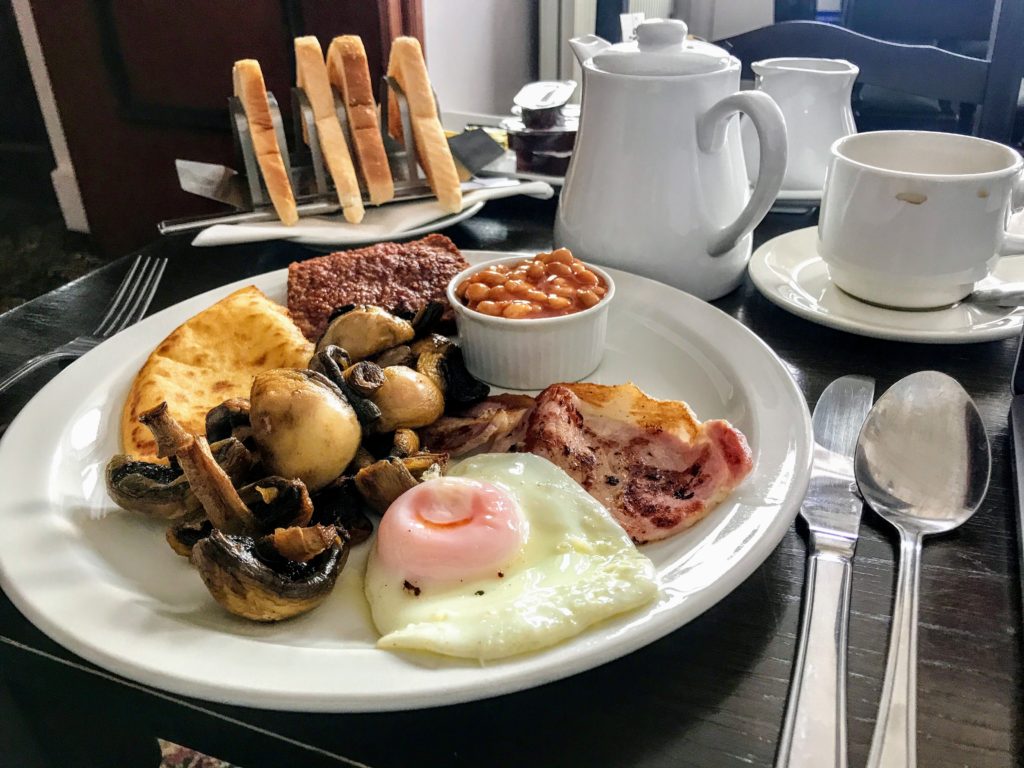 To make it worse, the Met Office was keeping alert level at Red and asking that non-essential travel cease as the roads were either untreated or totally closed. Dismayed, but not deterred, I rebooked myself on a flight for Friday night, checked out of the seedy Stag Hotel, and switched to the much nicer and recently renovated Annandale Arms Hotel.
Due to the weather I was the only person staying in the hotel. I checked in, dropped my bags and headed out to explore Moffat. I walked around and explored the town for a few hours which gave me ample time to play with my camera and test out the new lens I had purchased just before this trip.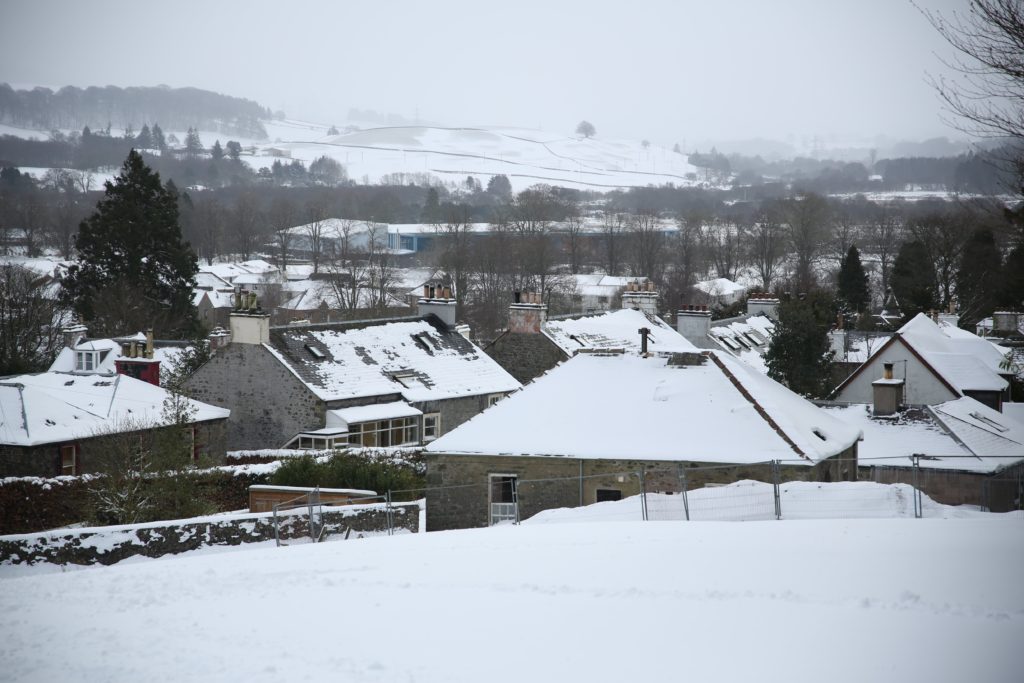 After an hour or so my feet had gotten soaking wet since all I had for footwear was a pair of old sneakers. Our belongings hadn't arrived from the US before I left on this trip, so I didn't have my usual "shoot shoes." So I popped into The Rumblin Tum for a quick bite to eat and a cappuccino.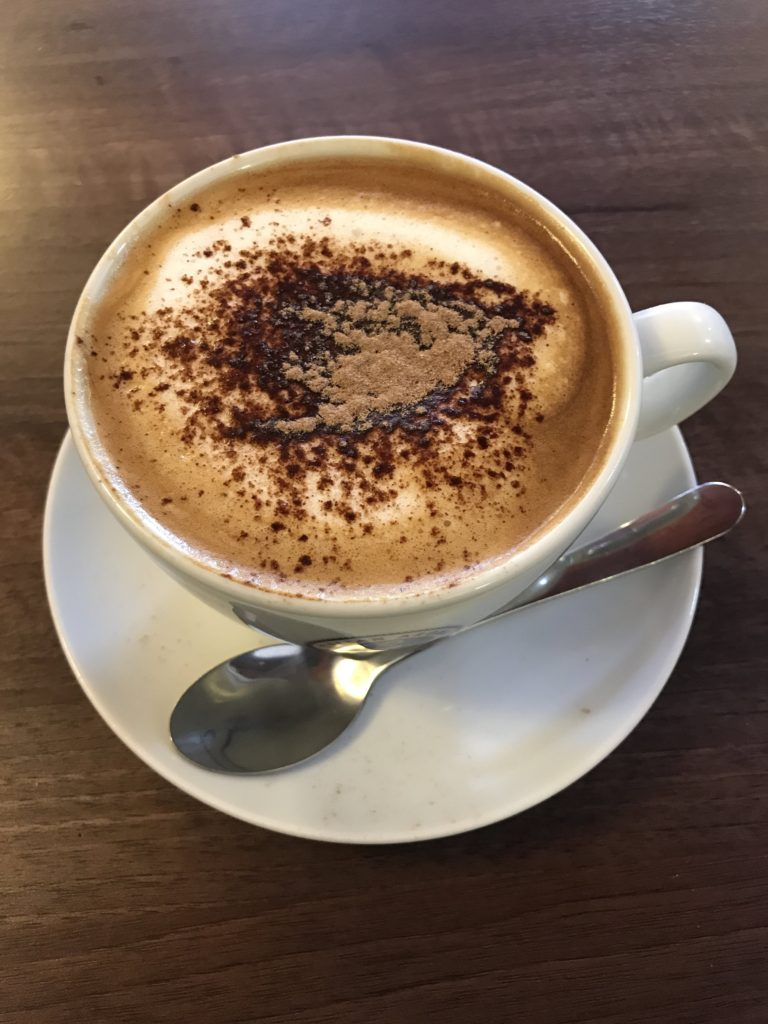 By this time it was already late afternoon and my phone battery was running low so I headed back to the hotel.
Since I was the only person staying at the hotel I was given personalized treatment by the hotel staff and they made sure to tell me about the weekly Thursday night acoustic jam session that takes place in their pub starting at 9 pm. With nothing better to do that night I was intrigued and told them I would be back. What was an acoustic jam session like in a small Scottish town? Only time would tell. I headed to my room, took a shower, changed and headed out for the evening.
During my walk around town earlier in the day I discovered a few more hotels/pubs and headed out for part 2 of my Moffat Pub Crawl. With a good buzz going I headed back to the Annandale Arms pub around 8 pm to find the place totally empty except for an elderly couple having dinner. Skeptical that anything was actually going to happen that night I ordered dinner and another drink. Pot pies abound in the UK and having not yet tried one I opted for the Poacher's Pie – a delectable mixture of venison, pigeon, beef and a few more types of meat that all came together in a delicious way with a side of chips, peas and sweet potatoes.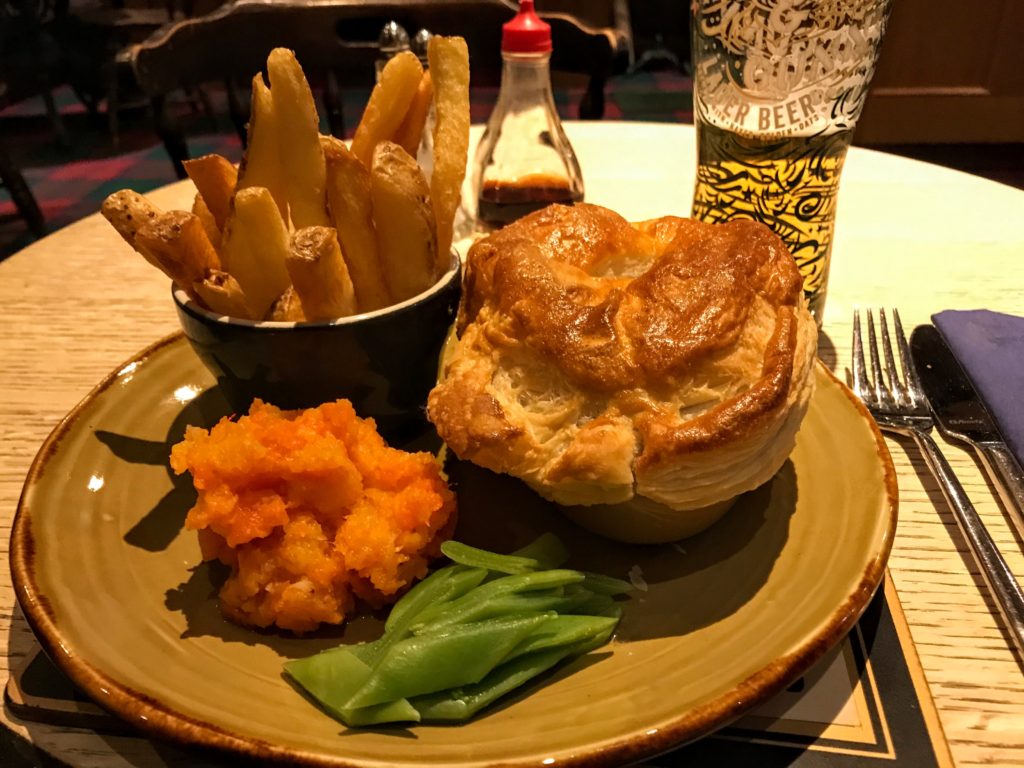 While I was enjoying my meal 3 or 4 other people came in and I was warned that the area of the pub I was sitting in was reserved for the musicians. Still not sure how this night was going to end up I finished my meal, switched tables and waited for the festivities to begin.
By 9 pm there were about 3 patrons (including myself) and 2 guys with guitars. "What sort of lame night did I get myself into," I thought.
Then a few minutes later more people showed up with guitars, then a few more and before I knew it the number of people with guitars outnumbered the number of audience members. They each strummed and tuned their instruments and before long the music began. For the next 3 hours roughly a dozen people from all over Moffat came with their guitars and sang covers while their neighbors and assorted townspeople filed in until there were roughly 30 people sitting in this small pub downing pints of Guinness and Lager and blasting out classics like Wagon Wheel, Peaceful Easy Feeling, Take Me Home Country Roads and Leaving On a Jet Plane, interspersed with soulful Scottish ballads. It felt like I was back at CYJ for a Saturday post-lunch song session, so of course I sang along which helped me make friends with the locals who bought me drinks and let me play with their dogs.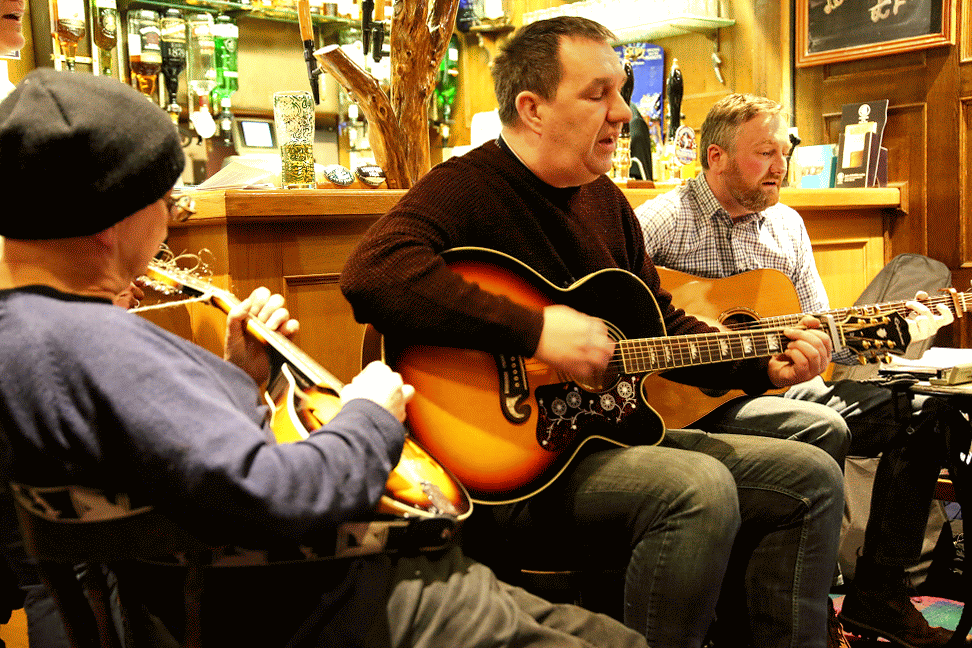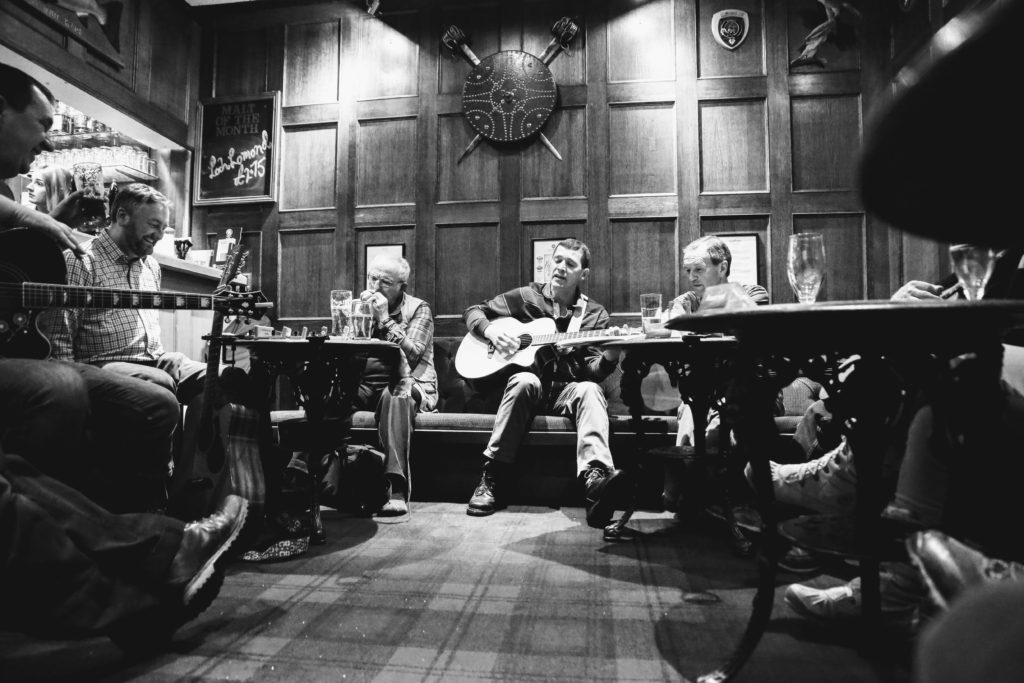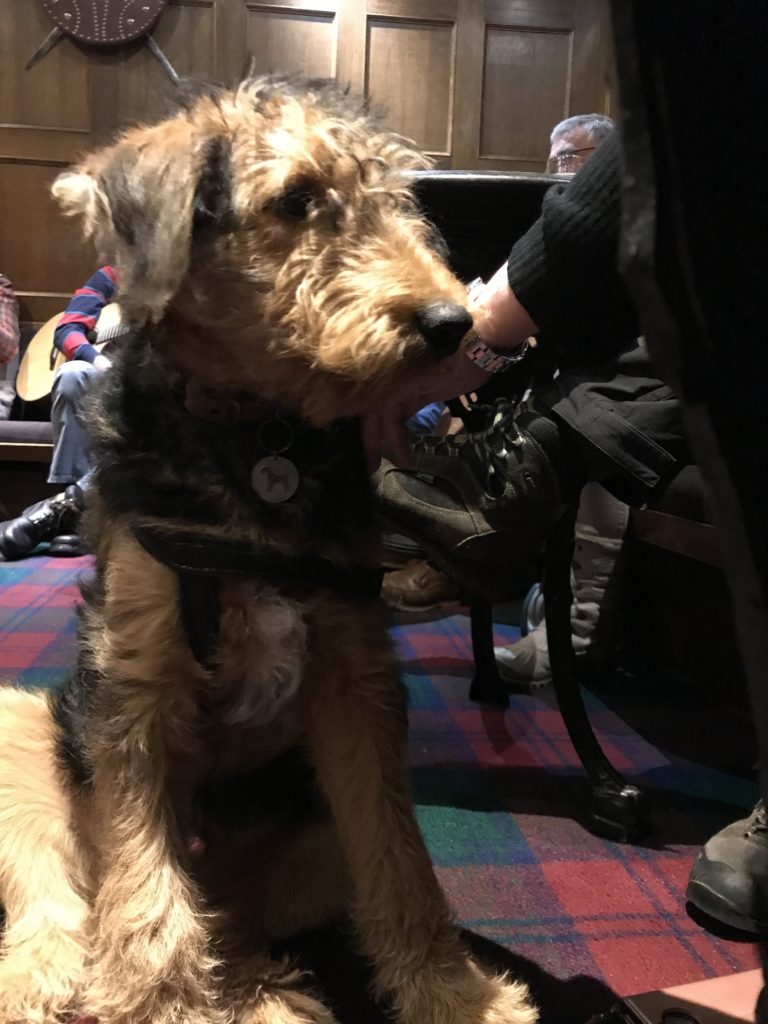 With such a lively crowd and emotive singing it was an excellent opportunity to take some more pictures. If I had to guess what the last song of the night would be, at an acoustic jam session in rural Scotland, on a Thursday night I would have guessed wrong because La Bamba was the last thing I would have thought of. But nevertheless, wanting to go out with a bang, the whole group rocked out to it (Ritchie Valens was probably turning in his grave). What a great way to cap off my last night in Moffat.
WRONG! While enjoying my breakfast at the Annandale I got a notification that my flight that night was cancelled and after trying to rebook it turned out that there were no flight available until Sunday!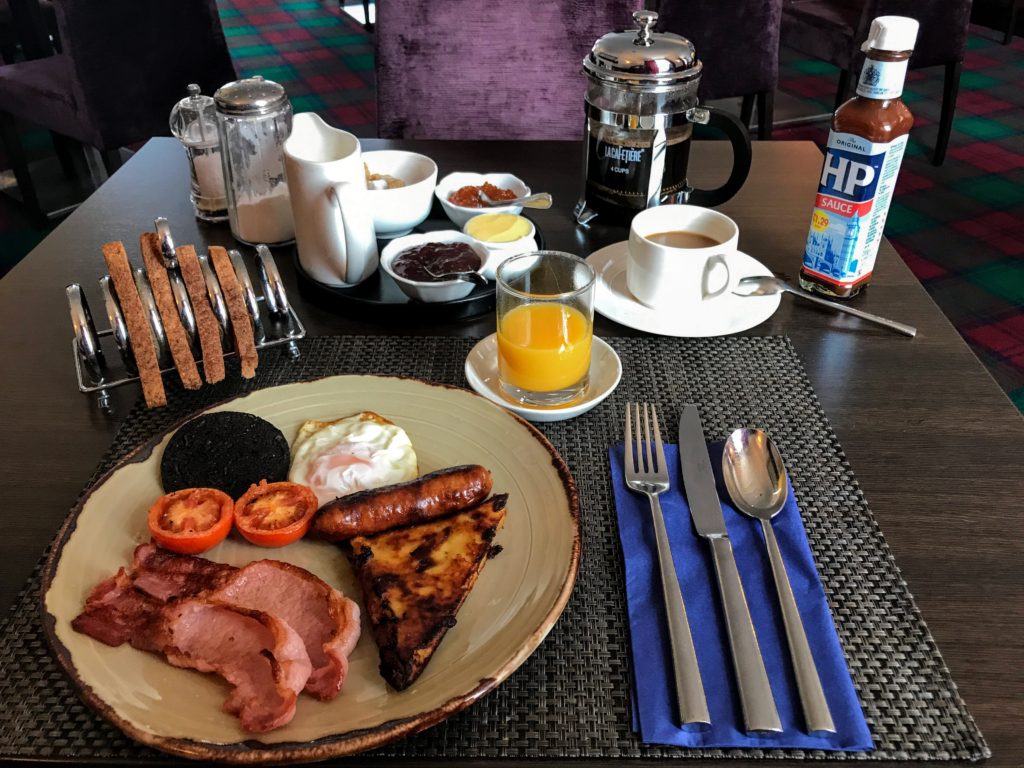 At this point I had already run out of clean socks and underwear and was in desperate need of a shave. The roads out of town were still closed and I had already been up and down High Street several times so I was running out of things to do. I was quickly starting to feel like Phil Connors from Groundhog Day, minus Ned the Head and the God complex.
I ventured outside, but the novelty and of Moffat had begun to wane. The once peaceful community was starting to come out of their hovels and the slush and mud was starting to appear. The clouds had moved in and the wind had picked up, but with no new snow falling everything just looked drab and dreary. I popped into a hotel for lunch then headed back to my hotel. The wifi in the lobby was decent so grabbed a seat by the fire and settled in to watch some Netflix for the next few hours.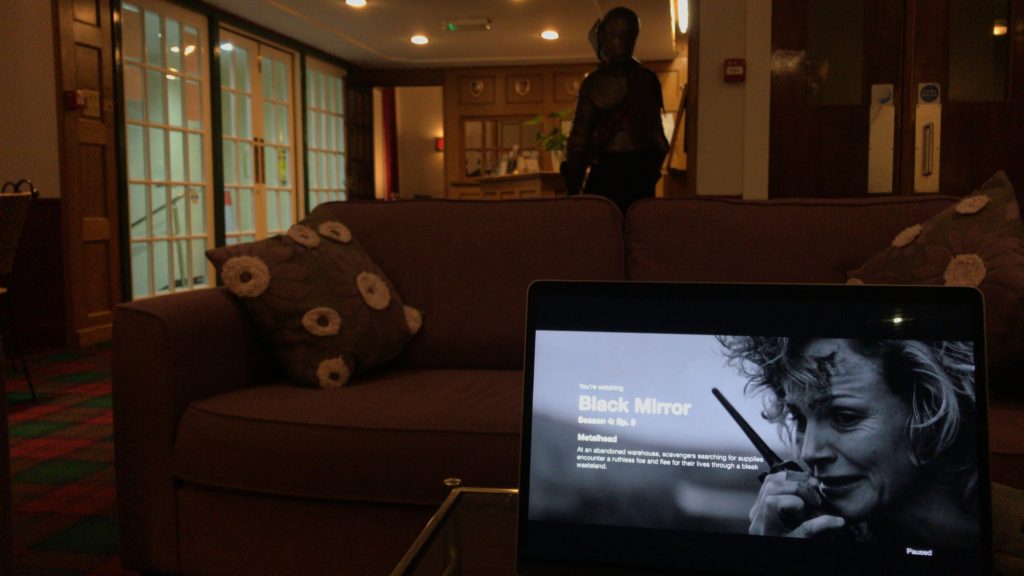 I chatted with the hotel staff some more and they said that there would be another jam session that night. I'd had so much fun the night before that hearing about this jam session re-energized me. I headed out for a quick dinner at the nearby Star Hotel where I enjoyed another delicious Pot Pie and headed back for the Friday night jam session.
While Thursday's event took a while to get going, Friday's never really did. It was only 3 people performing and only about 10 people total showed up.
One of the guitarists from the night before came and we chatted a bit and shared my pictures from the previous night with him. It was a much quieter night, so I left early and headed to bed, hoping to make it out of town the next day.
I awoke on Saturday morning and there were no more weather warnings, the roads were clear and I plotted a route to Edinburgh that was a bit longer, but would take me on the main highways that had been properly plowed and salted. I ate breakfast, checked out of the Annandale and put Moffat in my rearview mirror. The drive back north was wholly – and pleasantly – uneventful. I made a quick pitstop in Glasgow to get some photos of the church that is a friend's namesake and then headed to the Edinburgh airport to return my car and see if by some miracle I could get on a flight that afternoon. There were no flights to be had so I grabbed my bags and finally headed into downtown Edinburgh. It felt great to be back in civilization. I checked into a large, modern hotel, and with only 24 hours until my flight I grabbed my camera and headed out to explore the city.
It quickly became clear that shovels are a rare commodity in this city as none of the sidewalks had been cleared, and with only my old sneakers for footwear my feet quickly became cold and wet. I had finally made it to my final destination and I wasn't about to let some wet socks stop me. I walked all over the city exploring Calton Hill, Edinburgh Castle and the small side streets.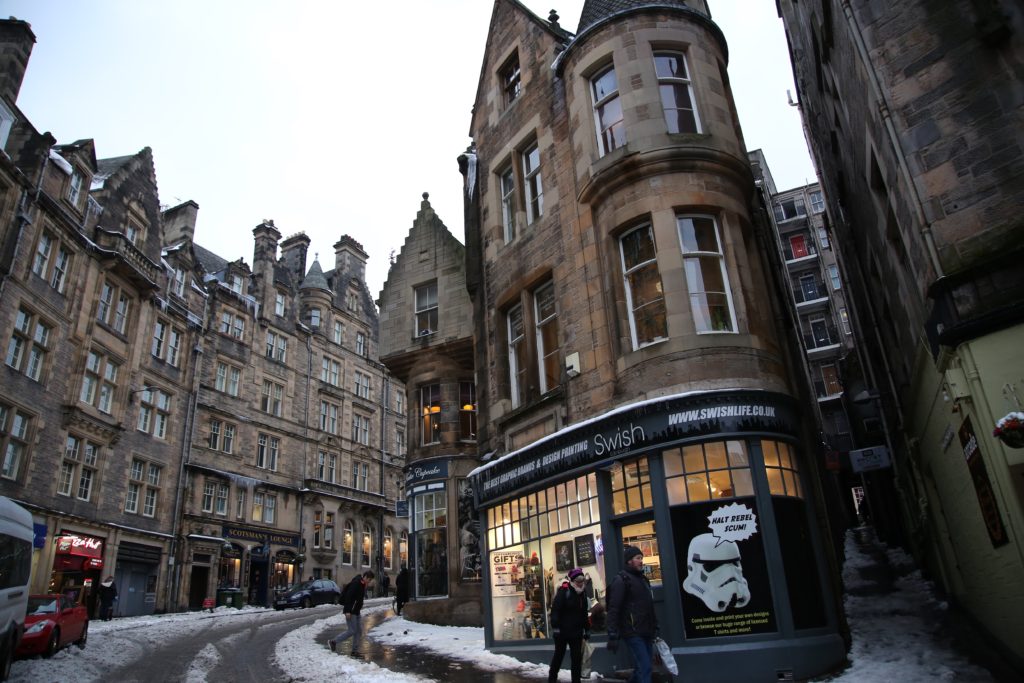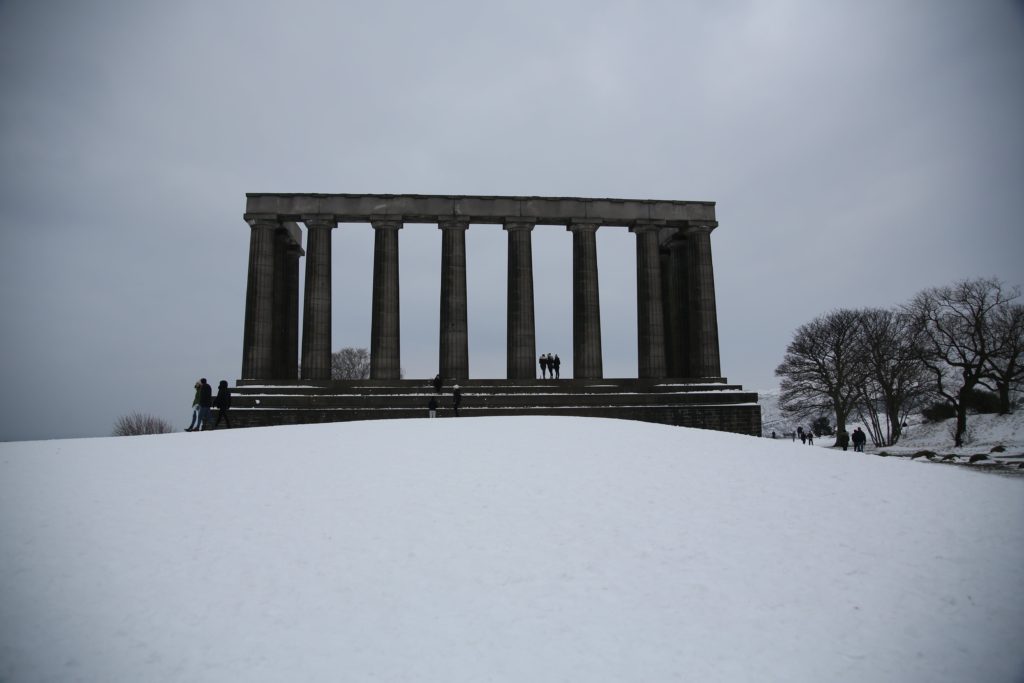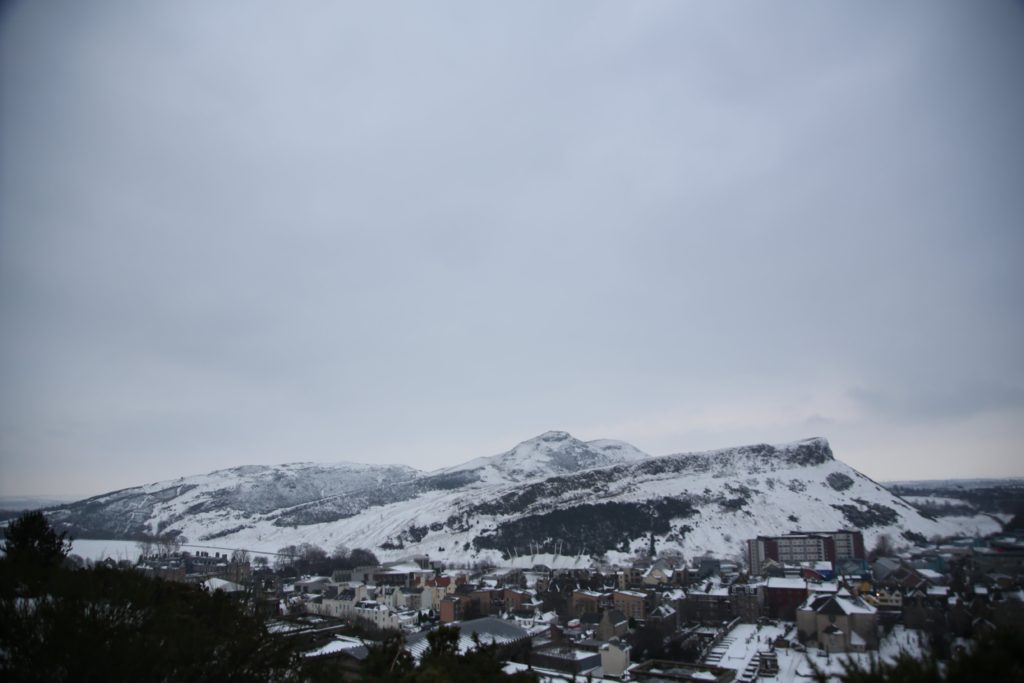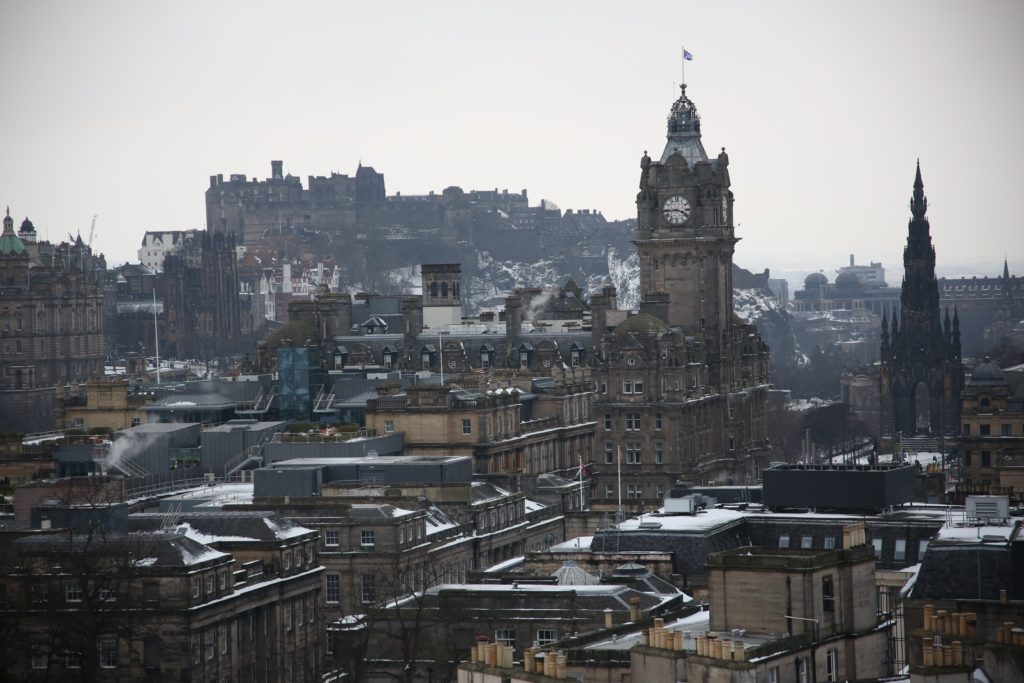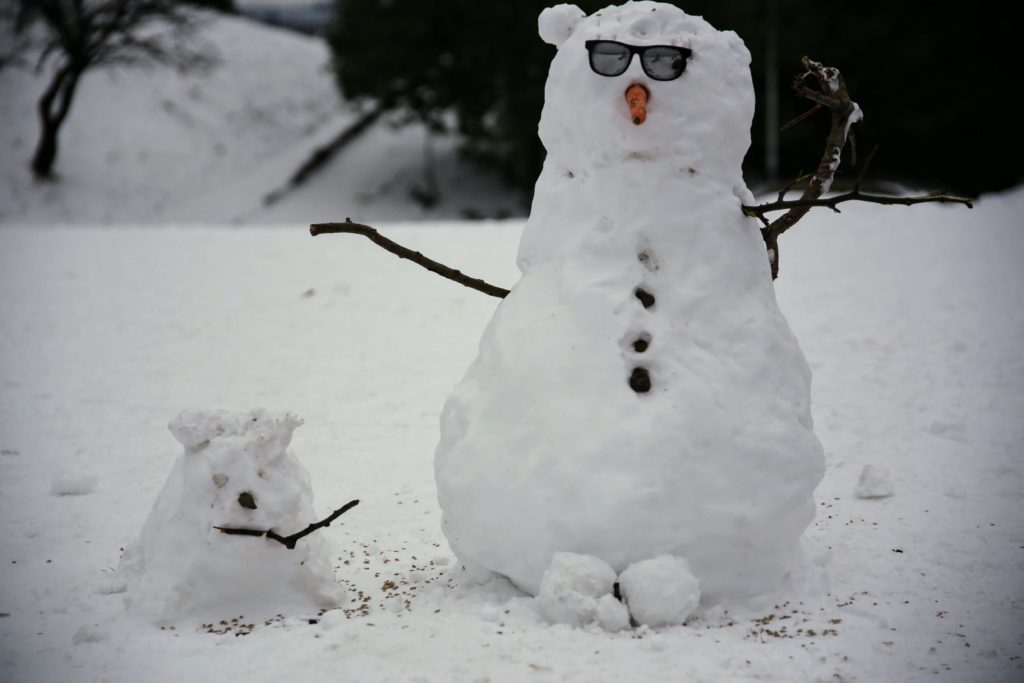 With the sun falling I headed back to the hotel to put on some dry socks and grab dinner.
I found a highly rated restaurant not too far from the hotel and being in Scotland I had to try haggis. So I went heavy on haggis and got the haggis stack and a burger with haggis on top.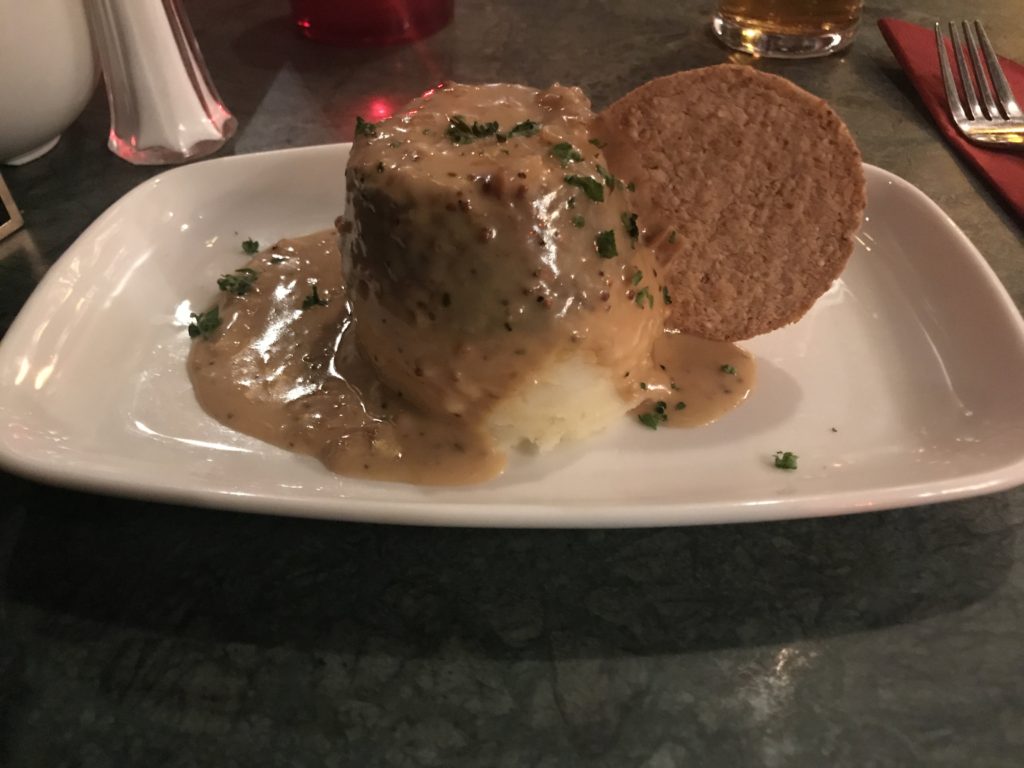 [bais_before_after before_image="https://jedjetset.com/wp-content/uploads/2018/03/DDD72A64-5111-4C0F-9FE6-F2062CCCD744-e1521071081244.jpg" after_image="https://jedjetset.com/wp-content/uploads/2018/03/E82C123A-DCA5-434B-8B12-D26587D19DF6-e1521070994156.jpg"]
Full of haggis and exhausted from eating heavy Scottish food for a week I ran out steam and had to head back to the hotel for the night.
Sunday morning finally came and I was more than ready to leave. I grabbed a quick bite, jumped on the tram to the airport and before I knew it I was heading back to London. With our cargo shipment arriving from the US the week before I was excited to head home not to our less-than-stellar corporate housing, but rather to our new flat located in what I affectionately call Halloween Hill. Even with boxes piled high and stuff everywhere it felt amazing to be home with Fed and Leo – like a weight had been lifted from my shoulders.
I'll look back on my adventures in Scotland fondly and continue to find humor in the absurdness of the whole thing as time goes on. But for now all I can do is look forward to the next adventure.