Best of Dubrovnik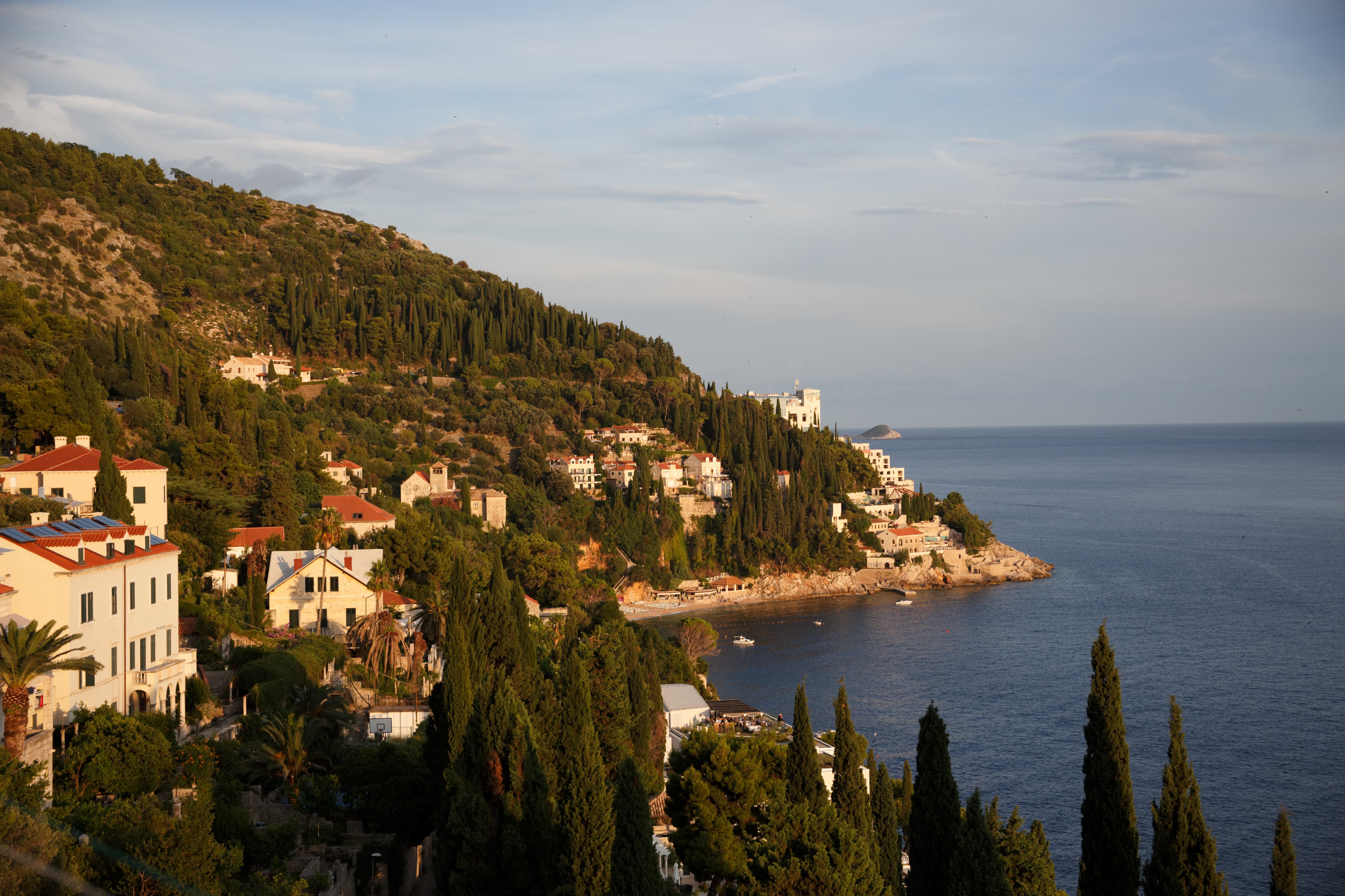 Dubrovnik offers beautiful coastlines, stunning hillside views, fascinating history, unbelievable wines and delicious food. It's no wonder that during summer the place is crawling with tourists and Game of Thrones fans.
We spent 4 amazing days in this gorgeous little city on the Adriatic Sea and that was the right amount of time to explore everything this Croatian city has to offer. Here are our tips and recommendations for an amazing trip to Dubrovnik.
Getting There and Getting Around
The Dubrovnik airport is quite small, but it's easy to get to from London with direct flights on British Airways and EasyJet. The airport is about 30 minutes from the Old City, but hotels and AirBnBs can easily arrange transportation for you to and from the airport. From the center of the city Ubers are very cheap and not hard to come by. There are also plenty of taxis, though as always make sure you understand clearly if it's a metered situation – there are very few tourist spots in the world where taxis aren't a sure way to get ripped off. Plus with Uber there's more of a chance that you'll get to sing along to Croatian rap.
Where to Stay
We stayed in a gem of an AirBnB. If you are going to Dubrovnik with a group – this is the house for you. This lovely little apartment was just a 15 minute walk from the Old City of Dubrovnik where most restaurants, shops and cafes are located. The walk up and down the hill served as our daily workout. AirBnB's are plentiful, but the good ones book up early and quickly. There are plenty of hotels and several luxury hotels as well. I think in some cases you'll find that unless you're willing to stay in the 5-star hotels, AirBnB may offer nicer accommodations.
The Beaches
I can't think of anything better than spending a vacation baking in the sun, reading, napping and taking the occasional dip in the gorgeous ocean water to cool off.
Banje Beach is the most well known beach and is closest to the center of the city. It's also the priciest and most touristy. While it was fine to spend a few hours there before we had to head to the airport for our flight back home, I wouldn't recommend it for relaxation or an authentic experience. The staff were not the friendliest, and since they have so much business they don't really have to be.
At the recommendation of other Internet savvy travelers we explored Sveti Jakov Beach. This beach is slightly further from the main downtown area and therefore isn't overrun by tourists. It's near the St. Jakov church and down about 100 steps. Once there you can rent some chairs and umbrellas, and there's even a little seaside restaurant where you can grab wine, beer and nibbles, which we did. It was our favorite beach.
We also had the chance to spend an afternoon at Copacabana beach. We took an Uber there, which took about 15 minutes from the city center. This beach is a bit more commercial, but still quite nice. If you're looking to spend all day at the beach, then this is a good choice because there are several restaurants, the loungers are nicer and you can rent jet skis or other water sports equipment to pass the time. It's also a great place to enjoy the sunset.
We didn't get a chance to go to Bellevue Beach, but one helpful tip about this beach is that there is no point going in the afternoon if your aim is to sit in the sun. It's on the east side of a mountain which casts shade onto the beach starting around 2-3pm.
All the beaches in Croatia are rocky beaches – or faux manmade sand beaches – so don't expect white, sandy strips. At most of the beaches you can rent a chair for between 10-20 Euros, but not all of the beaches provide towels. Traveling with towels is a pain, but there are lightweight, fast-drying towels that travel really well. We purchased these ones and we love them.
What to Do
If you're into seeing the city and learning about history then a guided walking tour of the Old City is for you. It was nice to learn a bit more about Dubrovnik's history, so I'd definitely recommend a guided tour, but our guide was a bit chatty and by the end the heat and lack of water was taking a toll on us. If you've got the funds, perhaps hire a private guide so you can move a bit quicker and concentrate on the things you care about. Otherwise pull up the Dubrovnik wikipedia page and do a self-guided tour, which also allows you to take little turns up and down the small side streets that are incredibly charming and often much less crowded than the main roads.
Game of Thrones nerds unite – there are plenty of Game of Thrones specific tours, which are very popular with those that watch the show. There are several scenes from the show that were filmed in Dubrovnik.
A lot of the guided walking tours come with tickets to walk the Old City walls, which is a must do. The walls can get crowded, but they only allow one way traffic to keep things organized and flowing. Other people can't really disrupt your photos because it's so narrow that there's not enough room to photobomb. It takes about 2-3 hours to go around the walls in their entirety but it's 100% worth it. There are some points where you think to yourself that the view won't get better, then you keep going 100 feet and in fact it does. Truly some of the most unique views we've seen on our travels. Pro-tip: there's no shade on the walls so if visiting in the summer bring lots of sunscreen and water.
Our absolute favourite activity of the trip was a private all day boat tour with Dubrovnik Boats. If there's one thing you splurge on while you're in Dubrovnik let it be this. This company has boats of various sizes, but for 5 people we rented the JEANNEAU Leader 8 and it was the perfect size to fit comfortably all day and feel like we were in a Jay-Z music video. The price includes pick up and drop off from your accommodations, your personal skipper and guide (boat driver), drinks (wine, beer, water and soft drinks), towels, snorkeling gear and a GoPro to record your underwater adventures. The skipper will take you around to different islands, stop for snorkeling, cave exploring, make lunch reservations for you and allow you to repeatedly boomerang your dives off the boat. There are several different itineraries, the most relaxed being the Elafiti island one, but you can also go further to Mljet or Korčula.
Where to Eat
When inside the walls of the Old City don't get ripped off by eating at restaurants on the main drag. Take a right or a left into any of the small side streets and you'll find restaurants that are often cheaper and better.
There is one restaurant that you have to take the time to eat at. Konoba Veranda. I've dreamt of this place daily since we've returned. It's a small family owned restaurant tucked away on a hill about 20 minutes drive from the city center. Go as hungry as you possibly can and order as much as you can muster. The food is divided up into regional menus highlighting the flavors and dishes of nearby cities and countries, but you can mix and match regions for an amazing experience. You really can't go wrong with any dish and the wine is phenomenal. Croatian wine is fantastic – the French and Italians get all the credit usually, but Croatia's wine is probably one of the most underrated. I had the truffle pasta and my mouth waters just typing about it.
To cleanse your palate in the evenings enjoy some gelato from one of the Old City shops. If you know anything about me, then you know how strict I am about the quality of Italian food, but Dubrovnik gelato was surprisingly delicious. It's nice to stroll the Old City with your gelato in hand, enjoying the sounds of Dubrovnik's summer evenings. The shops stay open late so it's a great time to get your shopping done as well.  
Other Helpful Things to Know
One word I'd use to describe Dubrovnik is stairs. I climbed more stairs during our 4 day stay in Dubrovnik than I have my entire life. A trip to Dubrovnik is worth the expenditure if only for the certainty that it will reshape your backside in such a short amount of time. If you're not fit to climb stairs and hills, Dubrovnik may not be for you.
The best time to go is of course summer, but the weather stays mild from May through September. The weather has been unpredictable all over Europe this summer. Usually southern Europe enjoys very beautiful and sunny summers, but this year has brought more rain and cloudiness to this region than usual, while the North of Europe (UK, Germany and the nordic countries) have enjoyed unusually warm and rainless summers. Regardless, because of its seaside location bad weather usually passes very quickly and luckily this held true for us as well.
Most shops in the Old City accept Euros or even other currencies (eg. GBP), but when you pay in foreign currency you'll get change in Croatian Kuna. I'd recommend taking out both Euros and Kuna from the ATM. For most small transactions cash is best (and sometimes the only option), but restaurants and supermarkets accept credit cards of course. Coming from London we didn't find things to be very expensive, but of course it's a tourist destination that makes most of its money in just 4-5 months out of the year, so expect prices to be marked up.
Beware: cruise ships dock in Dubrovnik. If you've never visited somewhere at the same time as a cruise ships docks, count yourself lucky. Imagine a floating city descending on a very small village, and now imagine multiple cities doing that on the same day – it truly feels like an invasion. We didn't plan this, but luckily we weren't exploring the Old City at a time when any cruises were docked. Pro tip (from our guide): Check the Dubrovnik port schedule and try to explore the Old City on days when cruises aren't docked. Usually cruiser passengers stick to more traditional tours and wouldn't necessarily be spending the day at the beach, so leave your beach time for cruise docking days.
The main square of the Old City hosts a farmers market every weekday. You can buy fresh produce or little locally made trinkets. The fruit looks and tastes phenomenal. If you're an early riser you can go down to the center around 6-7am and watch the vendors set up their stalls and enjoy some peaceful moments without crowds.
Overall we loved Dubrovnik. There are many other Croatian cities that we look forward to exploring in the future including Split and Hvar.
Were these tips helpful? Are you planning to go to Dubrovnik or Croatia in the future? Let us know in the comments.
[envira-gallery id="836″]