Marvelous Marrakech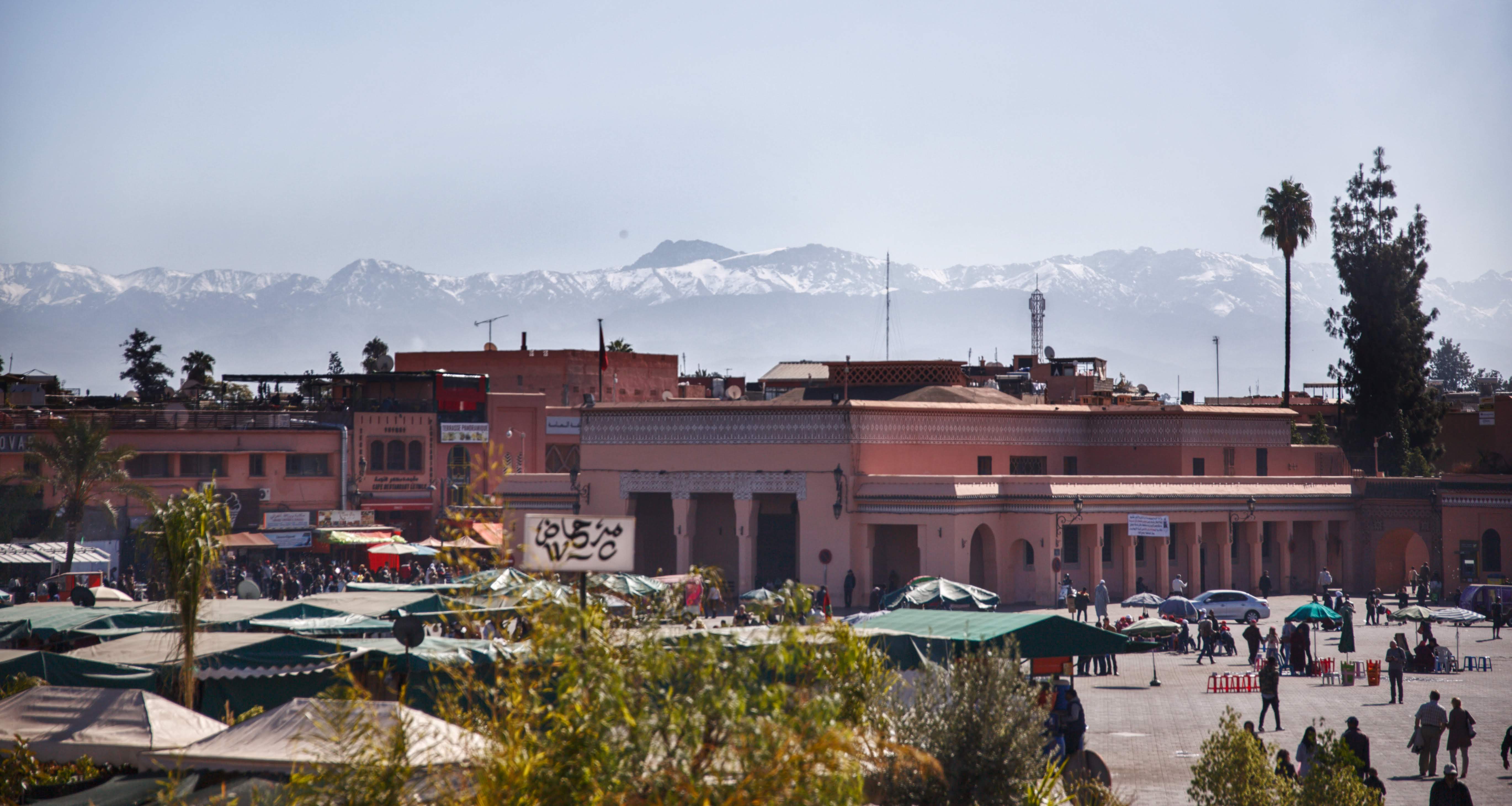 There comes a time during the London winter when it's advisable to actively seek out Vitamin D. Between the mild post-holiday depression that sets in, the 3:30pm sunsets and the collective 15 minutes of sunshine over several weeks, an escape to warmer and sunnier climates becomes necessary. Luckily for us, there are many options just a short EasyJet flight away. BTW we think EasyJet is superior to most low cost carriers in Europe. We seriously love their EasyJet Plus membership.
Luckily for us, North Africa is only a 3 hour flight from London. (Thank you modern aviation!) So we decided to spend a long weekend in Marrakech, Morocco – sunning, eating and getting lost in the souks.
The Marrakech medina has one of the best souks. It's a blessing our suitcase wasn't bigger. My favorites were the gorgeous leather goods, shimmering lanterns, and the colourful throw pillows and rugs. A giant bag of local nuts, dates and other delicious treats is only a few US dollars at the souk. Also, according to our AirBnB Experiences guide, this is THE best stall. We don't disagree, but good luck finding it 😉
Marrakech is made up of an old city surrounded by a new city. We stayed in the old city, which gave us great access to the central square, souk shopping, historical and religious sights like the Koutoubia mosque and restaurants. We stayed in a Riad. Riads are traditional Moroccan homes, with a lovely courtyard in the middle. We chose Riad Anabel, which we cannot recommend enough if you find yourself in Marrakech. Great prices and a big shout out to our girl Habiba who clearly runs the best Riad in Marrakech. The Riad felt like the only place we truly could retreat from the craziness of the sights, sounds and smells of the medina. It is amazing how quiet it is in the little alleys behind the main streets.

The city is a true assault on the senses, but in the most beautiful way. The smell of oranges, argan oil and meat tagines wafts in the air, the bright oranges and reds of the rugs and pillows hanging outside the shops catch your eye and there is constant shouting, chatter and music everywhere which was energising while simultaneously mentally exhausting. BTW crossing the street in Marrakech is like that video game Frogger in real life. The advice our guide gave us about crossing the road was, "whoever flinches first, loses" – mind you we are talking about a stand off between a human and a car. And don't be scared when a motorcycle or donkey comes up behind you as you're walking down a narrow alley – it's totally normal – just move right and keep on going. My advice: go in with an open mind and let all of that craziness be part of the experience. And just remember – old Marrakech requires a degree of physical and mental resilience!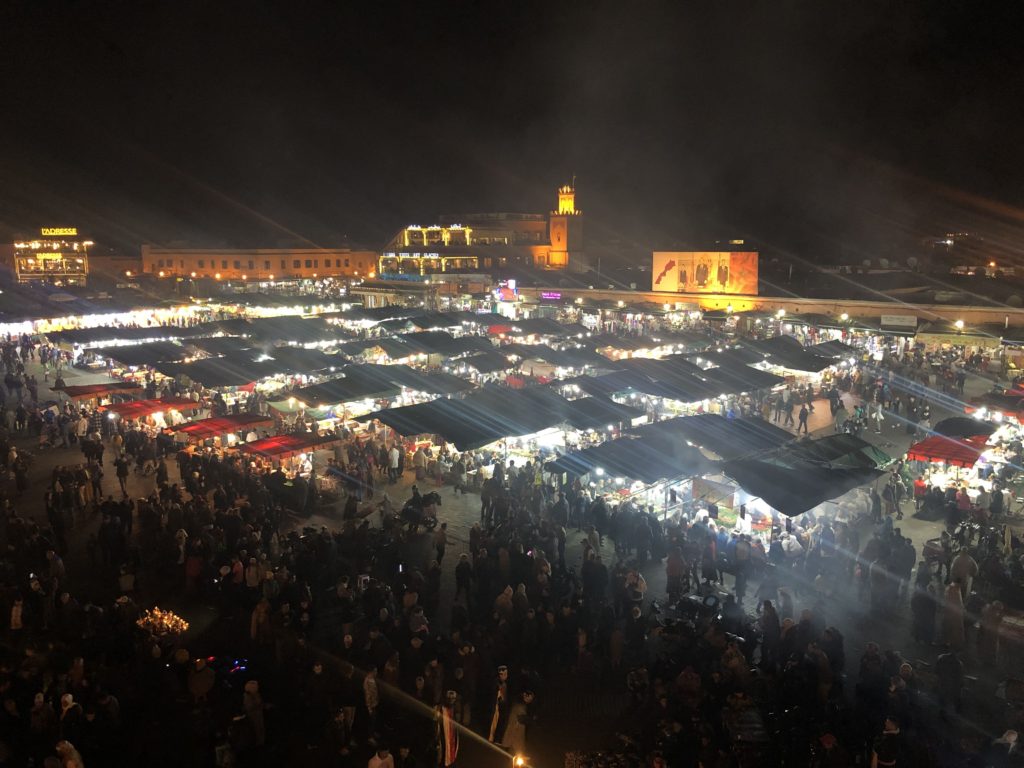 It's clear that Moroccans are born traders and natural salesmen. We've never been anywhere in the world where shop owners learn languages just to be able to sell their goods and services to tourists from anywhere in the world. In an attempt to make a sale, shop owners approached us in Italian, French, English and Spanish. 'Ciao bella' 'Hola señor' 'Bonjour madam.' J is flattered to know that he can disguise as a French guy if he wants to.

We had 3.5 days in Marrakech and we got to do a lot during that time. It was the right length of time for exploring the city and we even added a day trip outside of Marrakech. The first night we did an AirBnB Experiences nighttime walking tour of the main square and medina. In our AirBnB group we had representation from China, Jamaica, Ireland, the U.S. and the Netherlands. Shout out to our guide El Mehdi who I loved, because he gave us the knowledge and tips we needed to pretend that we are actually good hagglers. The next day we wandered around the city, getting lost with our google maps in hand. We also visited Bahia Palace, which is a must do for all real and wannabe Instagram influencers. To be fair, it IS really beautiful and thus instagrammable.
Just want to pause to tell you about Instagram. If you know anything about us, you know we like travel and we like to take photos. At 5 total cameras between the 2 of us, the camera to person ratio is unhealthy. Yes, okay, we have a problem! We admit it. We've got our phones (which take amazing photos by the way), our go pro, and two Canons. J's camera is very large and professional/paparazzi looking and strangers routinely compliment him on it. 9/10 times when we are at a so-called "tourist hotspot" we are trying to get some cool pics of it. (For the memories, ya know?) I mean that IS after all why you carry around 5 cameras. Jason usually finds an awesome secret spot that all of the BASIC people, who enjoy having the same pic as every other sucker on Instagram, have not already discovered. I want to be clear, I am not JUDGING those that do take the same pic as everyone else. I want that pic too, but I don't like crowds and I don't have the confidence to sit there and do a photoshoot while there are 10 beautiful model looking people queuing to take a better version of the same photo after me. SO, I make J spot a secluded hideaway that will still result in a cool Instagram pic. But as SOON as we start trying to take a pic in that "hidden" (in reality, it's in plain sight) spot, a group of people is attracted by Jason's giant camera lens and his 'anything for the shot behaviour' that usually has him laying on the floor. Slowly, more and more people begin surrounding Jason while he takes the picture, admiring the fact that they had not considered this shot and it is a very good shot. At which point they start staring at me and are impatiently waiting for me to get out of the way so they can get that same shot! Imitation is the sincerest form of flattery, right?
We went to the leather tanneries in Marrakech. That's where they dye and process the animal skins for leather products. Honestly, I wouldn't recommend. It's not about the animal skin or the awful smell. Apparently Fez is much better for getting the tanneries experience. We did buy a giant bushel of mint for 20 cents, which helped with the terrible smell, but there isn't much to see to be honest and the guys "guarding" the tannery doors are very pushy and don't really leave you alone until you engage or pay them (which you don't have to do).
Gardens are a big thing in Marrakech. The famous ones are Le Jardin Secret and Le Jardin Majorelle. Both are beautiful in their own right and sights we would recommend.
We took a day trip to the beach town of Essaouira, which is on the West coast of Morocco. We went with Omar via With Locals and really enjoyed our time. We spent a beautiful day in this sleepy town, which is reminiscent of our trips to Croatia and Greece. Oh and we saw goats in a tree on our trip there. Yes, I said GOATS IN A TREE. Oh and not to mention the market we got to explore, where I saw animal parts I've never had the privilege of seeing in real life (warning – graphic images ahead!)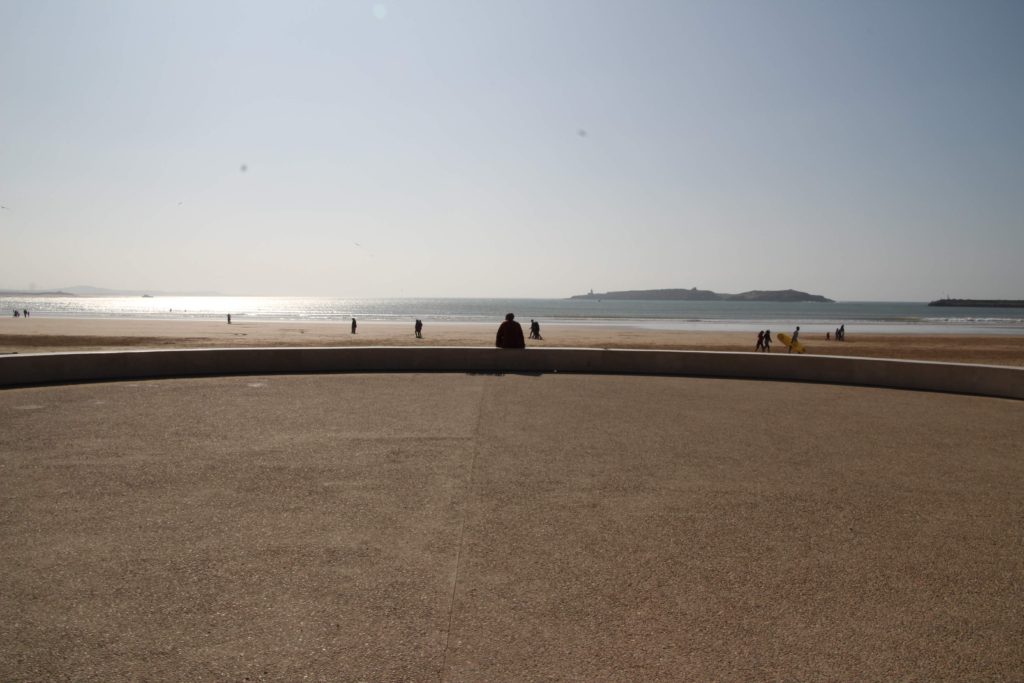 Overall we loved Marrakech and Essaouira and would recommend them as destinations for the semi adventurous traveler. It's definitely an area that can be explored during a long weekend, but if you're coming from farther than the UK or mainland Europe, you can make it worth your while by combining the north of Morocco by adding cities like Casablanca, Fez and Tangier to your itinerary or maybe even staying overnight in the Sahara desert. (All now on our travel bucketlist!) I am curious, did this post make you want to put Marrakech on your bucketlist or did it make you never want to go?